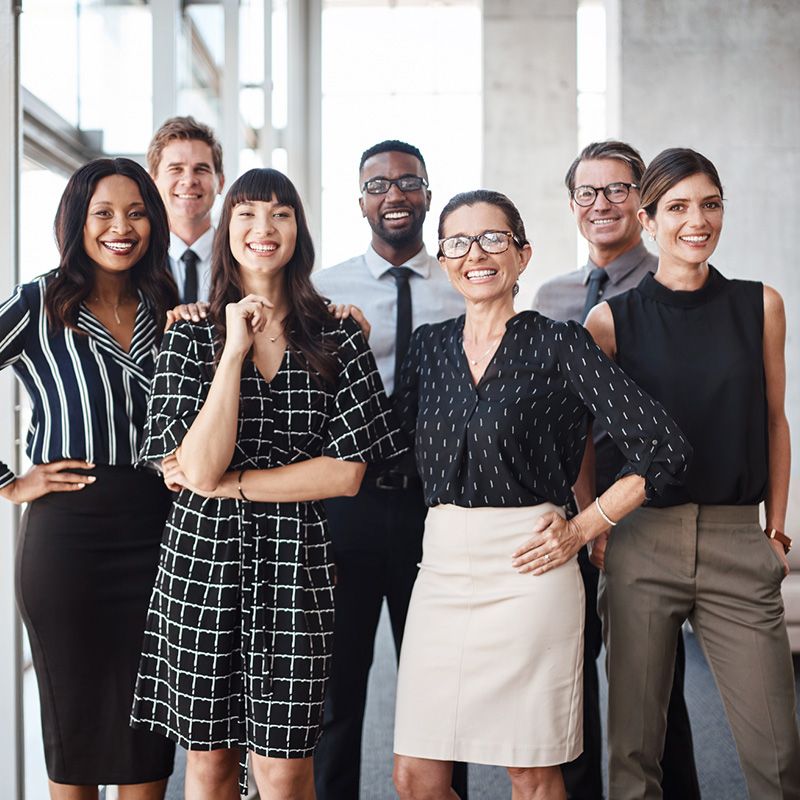 ​The job search process is no cakewalk–but what if you could have your own personal cheering section and a team of industry experts to guide you through it? Spoiler alert: You can.
Here are 4 reasons to consider using a staffing firm in your next job search:
1. Save time.
Taking the time to research, find, apply to, and follow up on jobs, only to get crickets on the other end of your phone line or email inbox, can be stressful and discouraging. It's difficult to go it alone. The good news is, a staffing firm can save you valuable time in the job search process by setting the right expectations upfront so you know what you're up against; what kinds of changes you need to make to help your resume shine; and which skills or strengths to consider highlighting in your interviews with potential employers. A great recruiter will take the time to get to know you, work to understand your short- and long-term goals, and help you devise a plan of action.

Staffing firms often have access to exclusive opportunities and are aware of company needs and job openings before they're public, and they will pass the best-fit opportunities on to you, cutting out a huge amount of groundwork (and dead-ends) on your part.

2. Find the best match.
The right staffing firm will work hard to ensure that they are not only matching their clients to the best talent but that they're matching them with the right talent. Soft skills, top-notch credentials and culture fit should all be taken into account. The goal is to find a mutually beneficial match, not simply place someone whose resume matches enough keywords.

One of Signature Consultants' guiding principles is "Friends First," which means we focus on building relationships with both our clients and consultants, making sure we understand what both parties want and need so we can make the right match. Our Consultant Care program helps to facilitate a network of highly skilled and talented professionals to fill the wide-ranging client needs that arise. Before, during, and after an assignment, we create connectivity through networking events, team lunches, and various training and development opportunities. We stay in close contact with potential, current, and past consultants to keep up with their current goals and share news and new opportunities as soon as they appear. When our clients have a hiring need, we are able to match them with the right talent quickly and efficiently, because we know both our clients and consultants inside and out.
3. Get rewarding work and peace of mind.
Working with a staffing firm, particularly one that operates within a specific industry, gives you access to jobs with enriching environments, the latest technology, and interesting projects. Recruiters and account managers are well-informed on the different trends and fluctuations of your industry, and through constant contact with consultants and hiring managers they are able to make the right connections to find you a role that fulfills your specific requirements.

At Signature, we take this one step further through our focus on Remarketing. Starting 60 days before the completion of a consultant's assignment, for example, Signature actively searches for the next "right" assignment for them. Giving our consultants a variety of options to secure their next assignment lessens their anxiety as they move toward completion of their current assignment.

4. Have an expert team by your side every step of the way.
While applying for jobs blindly may eventually work in your favor, working with a recruiter or team of recruiters can help you to hit the ground running through their expertise and connections. They get to know the hiring managers and organizations they work with extremely well and have built up a strong level of trust with them. They know what will likely work in a role and what (or who) won't, and they are able to pass on their hard-earned wisdom to you.

Your staffing team can provide you with valuable insights and information you can't glean anywhere else. They are experts who live and breathe staffing, understand the industry they specialize in and its unique challenges, and can anticipate their clients' and consultants' needs (sometimes before they do).
———————————————
Why wait? Start searching available jobs right now.
We believe the future belongs to innovators and problem-solvers. It's our job to create connections that inspire success. That's why we've spent 20+ years building strong relationships and bringing together top tech talent and forward-thinking companies. Signature Consultants joined forces with DISYS to offer a more diversified portfolio of services. Through our company's IT staffing, consulting, managed solutions and direct placement services, we deploy thousands of consultants each year to support client's tech needs across the U.S. Signature Consultants is also parent company to Hunter Hollis. Learn more at sigconsult.com.