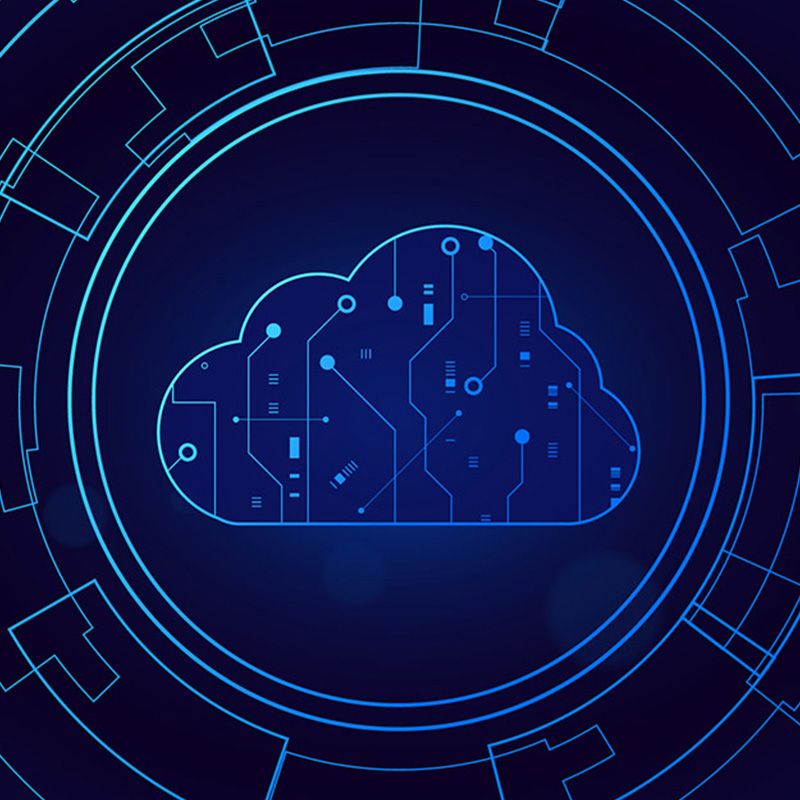 ​Cloud services have been nothing short of revolutionary for businesses, allowing them to develop virtual IT infrastructures and deliver software in ways independent to their operating systems. Specifically, cloud services offer: more flexibility, so users can scale on demand to support fluctuating workloads – and are only charged for services they use; increased efficiency – users are able to access cloud services anytime from anywhere with an internet connection; and freed up resources – with cloud service providers managing underlying infrastructure and a pay-as-you-go model, users see significant cost savings from the start.
As we look to 2020, key cloud technology trends to look out for include:
1. Cloud-based AI creating a faster track for mass adoption
Deloitte's recent survey of almost 2,000 executives indicates the top obstacles to AI adoption are data issues (i.e., accessing quality data, cleaning data, and training AI systems), integrating AI into existing processes and workflows, and AI implementation. Cloud-based software and services with embedded AI address these issues head-on, making it easier for non-experts to use AI technologies, ultimately setting the stage for adoption across industries.
2. Cloud-based solutions will continue to drive IT spending overall
According to Gartner, global IT spending is projected to total $3.9 trillion in 2020, an increase of 3.4% from 2019. The industry analyst firm predicts that software will be the fastest-growing major market this year, reaching double-digit growth at 10.5%, a rate that is being driven by the adoption of software-as-a-service (SaaS). The firm further anticipates that cloud-based offerings will lead IT growth through 2022, adding, "Organizations with a high percentage of IT spending dedicated to cloud adoption are indicative of where the next-generation, disruptive business models will emerge."
Other experts agree. In his recent annual cloud predictions, Forrester VP and Principal Analyst Dave Bartoletti, outlined how his firm predicts the whole cloud market will grow to $299.4 billion in 2020.
3. Talent issues continue
According to AWS, as enterprises embrace the cloud, so grows the skills gap for IT professionals who are properly trained and certified to use the latest cloud environment.
Fifty-three percent of IT leaders said they are struggling to acquire the necessary candidates to support cloud initiatives within their organizations. Companies are faced with a disappointing scenario of either waiting many months to hire engineers with the right experience, making a mediocre hire, or investing significantly to develop in-house capabilities. Attracting and retaining talent will be critical for organizations looking to maintain or gain a competitive edge.
4. Security will be a priority
Accenture predicts that the cost of data breaches worldwide from 2019 to 2024 could total $5.2 trillion. Any small mistake in configuring cloud workloads means leaving the door open to hackers. According to Kelvin Coleman, executive director of the National Cyber Security Alliance, "We often think of technologies like AI and the Internet of Things as tools for good, but attackers are starting to use them as well." He adds that the costs of fixing breaches and covering fines and other legal action also will rise. Spending often includes investing in new technologies, backing up networks and hiring and training staff.
Other experts warn of "weaponized AI" in which people use the same technologies that defend networks to create their own hacking AIs.
Moving forward, companies will be under increased pressure and scrutiny to show how they're preventing misconfigurations and ensuring security for their users.
5. Moving to a "preferred" cloud provider
With nearly 60 percent of North American enterprises relying on public cloud platforms, companies have prioritized hybrid and multi-cloud options, capitalizing on private and public cloud offerings from multiple vendors. Vendors are embracing this, accepting that users likely will leverage multiple options.
In 2020, some experts, including Nick McQuire, VP and head of enterprise and AI research at CSS Insights, believes that firms will shift to a "preferred cloud" strategy. In a recent article, McQuire said, "Multicloud has been one of the top trends in cloud computing over the past few years and the dominant strategy for most large firms today but over the next 12 months, we will see more organizations depart from this approach and nominate a strategic cloud provider for the entirety of the business transformation needs."
Are you looking for a staffing strategy for your technology team? If so, Signature Consultants can help. Contact us to get started today.
We believe the future belongs to innovators and problem-solvers. It's our job to create connections that inspire success. That's why we've spent 20+ years building strong relationships and bringing together top tech talent and forward-thinking companies. Signature Consultants joined forces with DISYS to offer a more diversified portfolio of services. Through our company's IT staffing, consulting, managed solutions and direct placement services, we deploy thousands of consultants each year to support client's tech needs across the U.S. Signature Consultants is also parent company to Hunter Hollis. Learn more at sigconsult.com.