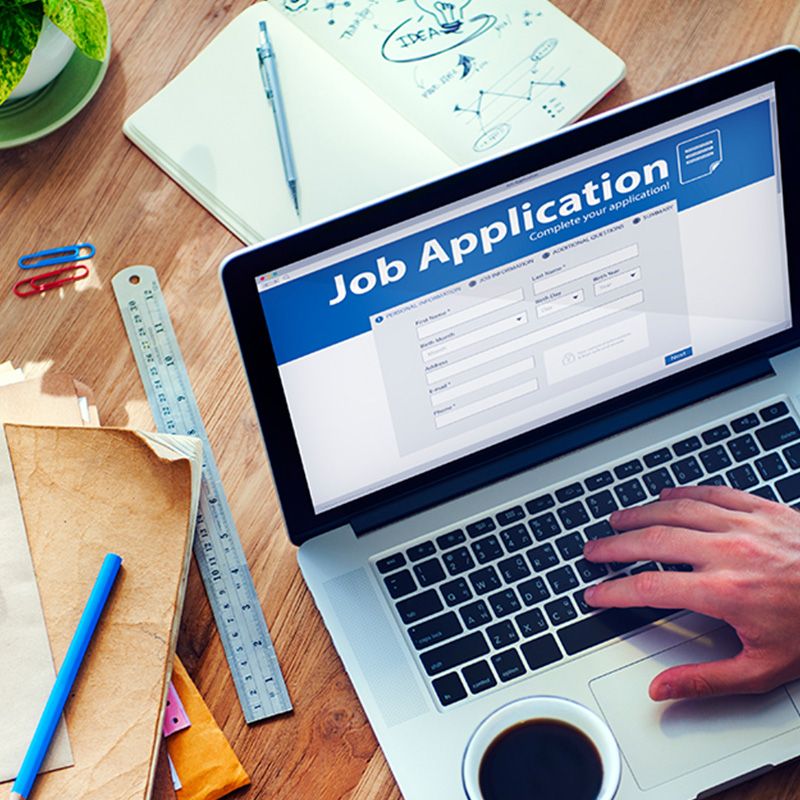 ​Across the entire labor market, from those in traditional staff employment to gig workers, freelancers, contractors, and hourly workers, many Americans are experiencing disruption in their jobs and careers. If you're among th emillions of workers to lose your job because of the coronavirus pandemic or are feeling uncertain about the security of your position in the future, several strategies can help you navigate your next job search.
Job Searching During COVID-19
Although some companies may not be hiring today, they will be again soon. Meanwhile, several sectors are increasing hiring to meet new demands brought on by the pandemic, including roles in retail, delivery, remote learning, healthcare, customer service, and technology. Therefore, if you need a job or are interested in changing jobs, we've outlined seven vital practices to use in your job-seeking efforts during these unprecedented times.
1. Reflect on Your Resume
If you've lost your job, or expect to, as a result of coronavirus, you may be wondering how to present this information during your job search. The good news is that employers are more understanding about unemployment due to layoffs in general, and particularly relating to the pandemic. The key is to present your unemployment gap so it's clear that you aren't unemployed for performance-related reasons. Take these steps to reboot your resume:
Consider adding a short sentence or two under your most recent job that explains the circumstances of your layoff.

Make it extra clear that your job was lost because of the coronavirus and include key information, such as your department or division was cut or that a large percentage of the company was eliminated. This language can be included in your cover letter as well.

Update your resume to include any projects or accomplishments you achieved before your layoff, even if they were still in progress.

Minimize your unemployment gap by volunteering for non-profit projects, updating your skills, or completing courses online. The important thing is to demonstrate your continued growth and commitment to your career. Try these free online course options, including MOOCs (massive open online courses), EdX classes (featuring free courses from MIT and Harvard), and free Microsoft training and tutorials.

As more companies are moving to remote or virtual work, make sure you take this time to learn various communication tools such as Zoom, Hangouts/Google Meet, or TeamViewer. Then, include these skills on your resume.
2. Virtual Networking
The people who continue to network and build relationships will likely be in a better position when companies ramp up hiring efforts. Although in-person events may be canceled or delayed for some time, you can reach out to like-minded professionals online or seek out virtual events. Consider joining professional groups on Facebook and LinkedIn, making sure to be active in conversations, posts, and comments to make yourself visible. If you're still employed but looking for your next opportunity, take a daily break from work to send notes to former co-workers and others in your network and check in with them. Connect with recruiters you've worked with in the past, or seek out new recruiters in your field of choice to discover current or upcoming opportunities.
3. Stay Top of Mind
If you were in the middle of interviewing for a position and it was promising, but you haven't heard back from the hiring manager, don't panic. As HR departments are scrambling to implement remote work policies and keep workers productive, the interview process can take much longer than usual. However, you can stay in touch with the hiring manager by email—just do so thoughtfully. Let them know you understand the situation and acknowledge that you may not hear back until it makes sense for their organization. If you contact a company during your job search and they aren't hiring right now, be sure to check back with them in a month or so to stay top of mind.
4. Use This Time to Research
Whether you're currently unemployed or remote working, use some of your day to research and set up Google Alerts for companies that interest you. Follow your target companies on social channels and in the media. During a time of global and economic uncertainty, such as the COVID-19 pandemic, you can gain a unique glimpse into a company's culture and business strengths. As you research potential employers, take note of how leadership is managing this crisis and how it treats its employees. Pay attention to those companies that are surviving or even thriving in this environment. When you do have a chance to interview, all your gained knowledge will serve you well by demonstrating that you understand the challenges and opportunities the pandemic has presented for the organization.
5. Practice and Prepare for Virtual Interviews
The use of virtual interviewing had been increasing even before this pandemic, so there's a higher likelihood that you may be asked to conduct this type of meeting during your job search. Use this time to practice and prepare. Try rehearsing with a friend or family member online, and ask for feedback on your delivery. Pay attention to the angle on your camera and ensure that you can see your entire face and anything that may be distracting in the background. Once you've mastered it, start asking professional contacts to meet for a virtual chat and coffee.
6. Use This Time to Pivot
Business as usual, isn't anymore. Even if hiring has slowed down in your chosen field, organizations are still looking to bring on talent to solve problems and navigate what's now a new normal. Take this time to reflect on your career aspirations and the possibility to pivot to a different position or industry. Consider how your skills may transfer to other work or start learning new skills and even enrolling in an online certification or degree program. Also, if you haven't considered a temporary job in the past, contingent labor is essential right now as companies take a paced approach to their recovery. It's also a great way to dip your toes into a new industry or job before making a permanent leap.
7. Focus on Your Work-From-Home Skills
As most companies have moved to remote work, some of the expediencies taken during the pandemic may turn out to simply be a better way to do things. Even new employees who will ultimately be office-based may begin their new jobs as remote workers. So, it's essential to demonstrate your digital and technical skills in your resume and other job-search efforts. For example, if you have experience managing dispersed team members or working remotely in the past, be sure to promote these skills.
8. Finding a Job May Have Changed, but It's Still Possible
There's little doubt that the weeks or months ahead will be challenging for anyone. Whether you've been laid off, furloughed, or are simply fearful of that possibility, you can still land a great job. Focus on what you can control right now, stay active, flexible, and positive in your job search. Lay the groundwork now by refreshing your resume, improving your skills, networking, and preparing as best you can to maintain momentum and improve your chances of finding a job sooner.
We believe the future belongs to innovators and problem-solvers. It's our job to create connections that inspire success. That's why we've spent 20+ years building strong relationships and bringing together top tech talent and forward-thinking companies. Signature Consultants joined forces with DISYS to offer a more diversified portfolio of services. Through our company's IT staffing, consulting, managed solutions and direct placement services, we deploy thousands of consultants each year to support client's tech needs across the U.S. Signature Consultants is also parent company to Hunter Hollis. Learn more at sigconsult.com.