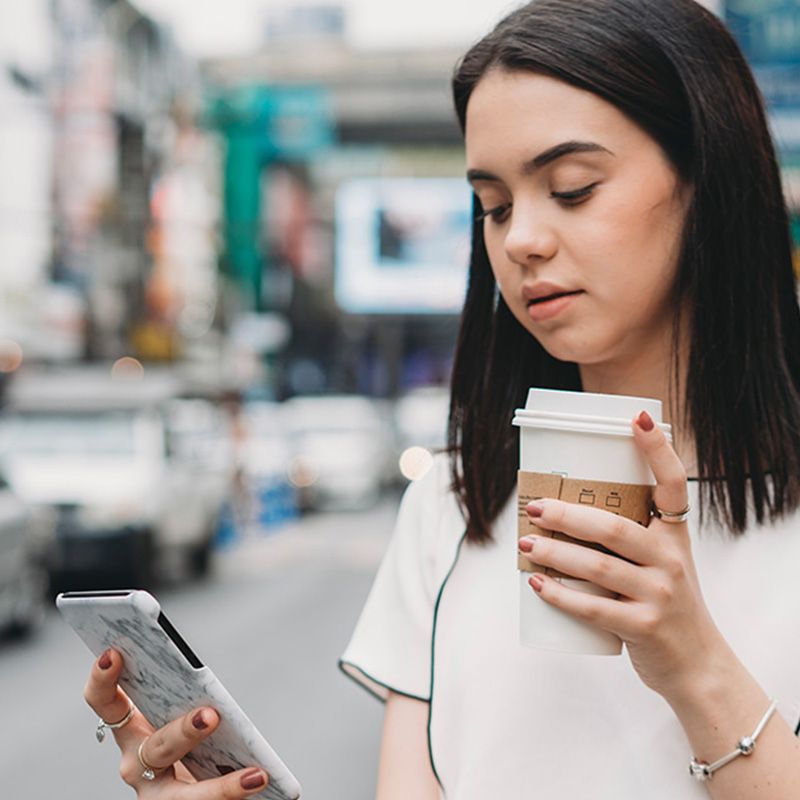 ​"Googling" something has been as natural as eating to Gen Z-ers, the demographic loosely defined as those born between 1995 and 2010, as soon as they were using their first computers or tablets. They have never known a world where the Internet and social media haven't existed, and the line between their online and in-person lives is much more blurred for these digital natives than for those who grew up before "online" became a thing.
So what does this generation's pervasive and savvy use of digital media and the Internet mean when it comes to searching for a job or finding an employer? For employers trying to attract the future generation of workers, ignoring Gen Z certainly isn't an option. After all, Gen Z candidates now comprise 27 percent of the U.S. population, and an estimated 32 percent of the global population. Smart employers are paying attention to the things this generation holds close—and finding ways to adjust their online presences to include them.
1. They prioritize human connection and transparency.
Though they're the first fully digital generation from birth, Gen Z candidates crave human interaction and face time with recruiters and potential employers. Seventy-four percent say they would rather communicate face-to-face (not necessarily in person) than through any other method. They trust their peers' opinions over those of big brands, and they reject false narratives and inauthenticity.
How to attract them: In terms of digital presence, consider balancing your actions online with personal encounters—even if it's a blend of the two. As a recruiter or hiring manager, schedule video calls and interviews with candidates for check-ins and updates when you can't meet in person. Whenever possible, add a human element to your interactions, whether you're actively hiring for a position, or focusing on one of your company's digital channels. A thoughtful email thanking candidates for applying (even if it's through marketing automation) is better than radio silence, and can make a difference in how your company is perceived by members of this generation.
Use social media to your benefit, and host live or recorded Q&As with team members who can describe why they love their job and what a day in the life is really like. As an employer, host a live "candidate Q&A" to explain the hiring process, answer questions about you as a potential employer, and help those interested in working for you see a face behind your brand. Gen Z-ers want open communication with higher-ups at the workplace, so your digital platforms offer a perfect opportunity to boost communications with potential candidates and others interested in following your organization. Make leadership figures available and accessible by sharing video interviews and casual recorded sit-downs with them, and ask key people to at least semi-regularly engage on your company's social media platforms.
2. They value much more than skill sets.
According to an EY survey on Gen Z, 70 percent of Gen Z respondents believe it's more important to be seen as having a curious and open mind than possessing a specific skill or expertise. Their lens of what they consider to be important in a potential employer and its culture (and likewise, what they deem important in terms of the value they offer) is much broader than simply looking good on paper through skills and qualifications:
They're passionate about making the world a better place, and finding an employer who cares about social and environmental causes and the community around them is high on the list.
o Many Gen Z workers believe work should accommodate play, and play should be incorporated into work.
o They're characterized as diverse, community minded, entrepreneurial, and pragmatic.
o They value continued learning and developmental opportunities.
How to attract them: These items are often just as important to Gen Z, if not more important, than checking off a list of skills and certifications. Ask yourself how the role you're hiring for, and your company culture in general, allows space for the things most important to this generation. Consider how you can craft your job descriptions and design your recruitment process to reflect this.
How can you stretch your organization in new ways to accommodate the needs and wants of a generation that will soon make up a large portion of your workforce? Consider the ways in which you encourage failure and foster creativity, curiosity, new experiences, flexibility, developmental opportunities, collaboration, and entrepreneurship. Create a section on your website and digital platforms solely dedicated to company culture, and incorporate interactive elements into the mix. You might spotlight your organization's efforts to clean up the local community or provide literacy services in your area. Or, you might point out that remote working is encouraged, field trips to museums are commonplace, and training is reimbursed. Make these aspects of work come to life for those who don't work for you, as they're benefits that may draw like-minded people to you much more than skills and experience matches on paper.
3. They crave feedback and recognition.
Gen Z, as a whole, is not nearly as afraid to make mistakes as generations of years past. Nearly all of Gen Z respondents in EY's survey(97 percent) said they're receptive to receiving feedback on an ongoing basis or after completing a large project or task, and 63 percent of respondents prefer to receive timely constructive feedback throughout the year.

"Organizations that give lots of feedback and accept feedback from even their newest employees will be most successful with this generation," Lisa Severy, director of career services at the University of Colorado at Boulder, says in a SHRM article. "Those who are very cognizant of hierarchy and expect new, young employees to be seen and not heard may have more difficulty."
How to attract them: Gen Z regularly wants feedback while on the job, and this is no different for those seeking a job. They expect a robust and friendly job search experience. Make an effort to give candidates feedback throughout the hiring process, and follow up with them regardless of whether they get the job. There's nothing worse than applying to an open job posting, never hearing back, and seeing the same post listed for months with no updates that it's been filled. Add regular updates on your digital platforms about available jobs and the current status of open roles.

Keep in touch with candidates after a role is filled. Start a newsletter that shares company news, updates, and new open positions, and encourage candidates to join your digital platforms and interact with you. You never know when someone may be perfect for a future position, or may refer someone else to you because they've had such a great experience with you.
4. They want a superior digital experience.
Gen Z is full of motivated self-starters who aren't afraid to forge ahead and figure things out, but they want digital experiences to be responsive and intuitive. When they're digitally connected, Gen Z-ers want and expect the process to be smooth and seamless.Gen Z workers are used to getting information quickly and conveniently, so employers should consider this in their recruitment efforts.
How to attract them: Human connection, while certainly important to this generation, must be paired with tech that enables smooth delivery of tasks, whether that involves smart automation of meeting scheduling, keeping candidates in the loop throughout the hiring of a role, or simply having a streamlined, uncomplicated and user-friendly application experience. Many Gen Z candidates are less inclined to complete an application if the company's recruitment methods are outdated and complex.
5. A diverse and inclusive culture is critical.
Gen Z is the most diverse in history. Nearly half of Gen Z-ers are ethnic minorities (48 percent), two-thirds (63 percent) feel that in a team environment, it's most important to work with people with diverse education and skill levels, and an additional 20 percent feel that having people of different cultures (ethnicity/origins) is the most important element to a team, according to an EY survey on Gen Z. In addition, 77 percent say they feel more positively toward a brand when it promotes equality on social media, and 71 percent say they would like to see more diversity in advertising. All this is to say, diversity and inclusivity is of the utmost importance to many Gen Z workers.

How to attract them: View inclusivity as more than just a buzzword. Your actions speak louder than your words, and you must build a system in which everyone truly feels like they're part of the organization. "Diversity management and inclusion are integrated into every system and process, so people are comfortable taking risks, sharing ideas, and they feel invested in their own success and the success of the organization at every level," inclusion expert Simma Lieberman says. By making your commitment to equality front and center on your website, social media platforms, and throughout your online and offline hiring process, you'll attract the types of candidates who are seeking a culture where everyone is respected and appreciated. When considering how you use your digital platforms, remember that just like generations before them, not all Gen Z candidates share the same preferences and interests. Treat them as individuals and you'll be heading down the right path.
We believe the future belongs to innovators and problem-solvers. It's our job to create connections that inspire success. That's why we've spent 20+ years building strong relationships and bringing together top tech talent and forward-thinking companies. Signature Consultants joined forces with DISYS to offer a more diversified portfolio of services. Through our company's IT staffing, consulting, managed solutions and direct placement services, we deploy thousands of consultants each year to support client's tech needs across the U.S. Signature Consultants is also parent company to Hunter Hollis. Learn more at sigconsult.com.