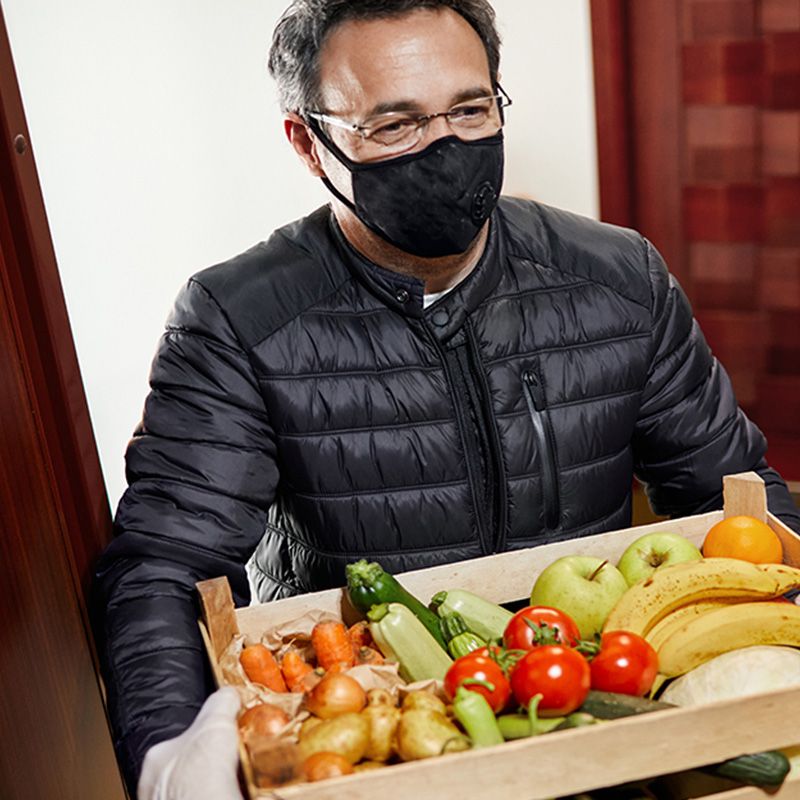 While giving back to the community is something that's always part of our mindset at Signature, the needs within our communities have become much greater as a result of the economic impact of COVID-19. You might not personally know someone suffering with the virus, but odds are very high that you know a friend, family, or small business that's feeling the burden. A mindset of "What can I do to help?" can transfer hope and positive energy to someone facing a challenge and may be just the thing that helps a family or business over the hump. You likely know how much it means when someone reaches out, offers their support, and then rolls up their sleeves beside you.
But where to start?
Even during the time of social distancing there are still ways to support your local community and offer a hand to those in need.
Work Together
Charitable efforts are more fun in conjunction with friends and family. Use your creativity to reach out on your social network to raise awareness for the needs of your favorite charitable organization. This can be as easy as following your local charity and reposting or retweeting with your own note about why support is important to you personally. Many people are willing to help if you extend a heartfelt note about the need and why it's important to you and the community as a whole.
Participate in a Friendly Competition
Often, friends and colleagues are naturally motivated to reach goals and try to outdo each other in a friendly but competitive manner. Why not set a fundraising goal among your team or peer group, and then add a fun reward to recognize the winner and jointly celebrate the collective achievement? There are no losers when it comes to supporting our community.
Seek Out Opportunities
The timeline for economic recovery and the relaxing of shelter-in-place orders will vary around the country. Some individuals may be comfortable volunteering to deliver meals to others, for example, while other people might prefer to give money or offer support from home. Because the need for assistance ballooned so rapidly, many charities have administrative needs that exceed the capacity of their core volunteers. For example, food banks and others use volunteers to write thank you letters and make phone calls to donors. Other charities need assistance with data entry or responding to emails. Reach out to local groups and ask how you can help from home.
Support Local Businesses
With social distancing and stay-at-home orders in place, many small businesses are getting hit big during these unprecedented times. Take advantage of curbside pick-up or contact-free delivery and order takeout from your favorite local restaurant. The same options are available at some grocery and other supply stores. You might also consider buying gift cards from various vendors now, to use later to give them a little extra boost while their customer counts are low.
Stay Connected
In a world built on social interaction, we now find ourselves in uncharted territory that's more isolated and lonely. Sometimes just lending a listening ear or making an effort to check in can make all the difference. Continue to connect with friends, neighbors, and family, especially those who are elderly or live alone. You can call, text, video chat, email, or mail a note of encouragement. You never know who might appreciate the extra support during this time.
Make Monetary Donations
Donating money can be the fastest, easiest way to help. If you aren't sure where to give, here are a few options offering COVID-19-specific relief services:
We believe the future belongs to innovators and problem-solvers. It's our job to create connections that inspire success. That's why we've spent 20+ years building strong relationships and bringing together top tech talent and forward-thinking companies. Signature Consultants joined forces with DISYS to offer a more diversified portfolio of services. Through our company's IT staffing, consulting, managed solutions and direct placement services, we deploy thousands of consultants each year to support client's tech needs across the U.S. Signature Consultants is also parent company to Hunter Hollis. Learn more at sigconsult.com.