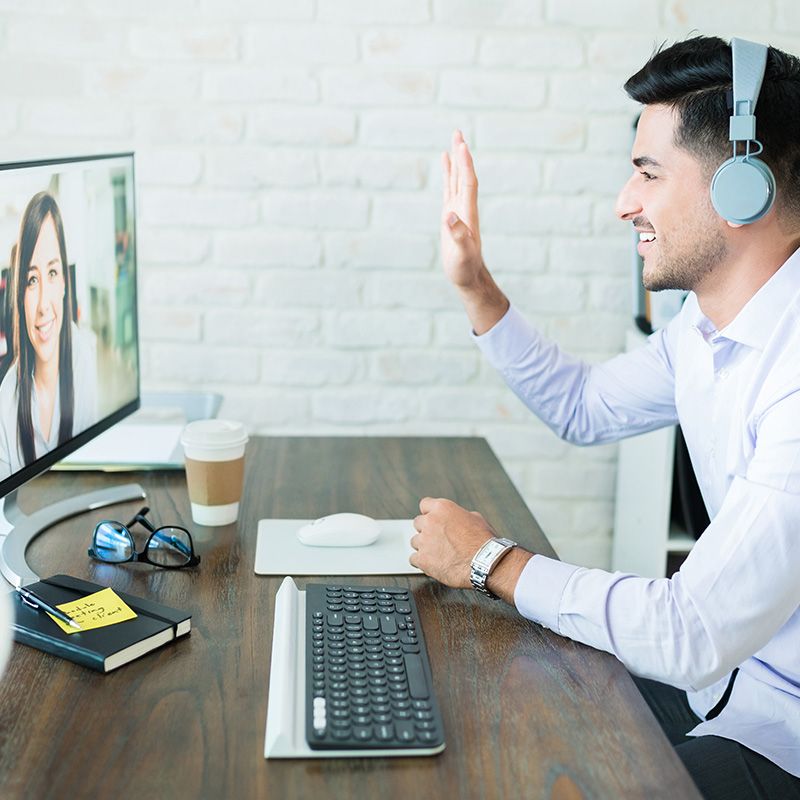 ​The COVID-19 pandemic has radically changed the way many professionals and organizations around the globe work. While recent years have been marked by a slow and steady shift to a more mobile workforce, COVID-19 has forced many to embrace the full potential of remote digital environments, and this leap has hit some harder than others.
While COVID-19 restrictions will likely be lifted over the next few months, it's quite certain that for many companies, their workplace and processes have been forever altered. As individuals begin to normalize digital processes and workflows across their organizations, more and more functions may continue remotely even when it's no longer necessary.
Among the many complex functions that we're all learning in order to shift to a digital environment is the onboarding process. Luckily there are many tools that even novices can adopt to make onboarding in an entirely digital environment occur smoothly and without delay.
Interviewing & Hiring
Remote hiring is likely to become part of the new normal over the next several years. Video conferencing platforms such as Google Hangouts, Microsoft Teams, Zoom, and GoToMeeting can provide interviewers with the tools necessary to conduct a quality interview. More comprehensive platforms, such as Harqen, can integrate additional interviewing functionalities, including evaluating candidates and outlining timelines, which can further add to both the candidate and interviewer experience. In many instances, these platforms can be implemented and put into use quickly and with simple training to ensure that employers create positive impressions and reach potential talent before their competitors do.
Introduction & Orientation
Video conferencing platforms are also very useful as new hires get to know their team members. Platforms like Slack can be used for informal video chats that facilitate daily team communication—and this can be beneficial for all team members, not just new employees.
Another function critical to onboarding is sharing the organization's mission, vision, policies, team dynamics, and role expectations. It's a lot of information to convey, and it may feel daunting to try to attempt it in a digital environment. Tools such as ProProfs Knowledge Base, EduFlow, and Asana can be used to share this information in a written format.
Some innovative companies have even started implementing chatbots that can guide new hires through the introductory process and information using a conversation format. One big advantage of chatbots is that they're always available—even after hours and on weekends—to answer any questions that new employees may have.
Employers must also collect information from new hires to set up payroll, secure benefits, and ensure compliance. There are a number of platforms available that can make it easy for new hires to complete documentation, provide identification, and digitally sign any documents that are necessary. A few include:
Additionally, digital checklists or a platform like Trello can keep everyone on task throughout the orientation process. The checklists can often include the action item requirements, as well as the correct platform or technology to use.
With the right combination of platforms and tools, the orientation process and introduction to the full team can go smoothly and efficiently, allowing your new employee to have all of the information they need to hit the ground running and begin working productively.
Training
Once a newly hired employee has made it past the initial hurdles and has become acquainted with their team, the real work can begin. Training employees is often one of the most difficult tasks, and the more they can learn quickly, the sooner they can begin making meaningful contributions.
Because many positions require extensive and nuanced knowledge, conveying this knowledge digitally can be quite challenging. Frequent video chats can provide assistance while other team members bring the new hire up to speed. Trello can outline the required tasks for the first two to three weeks of employment, ensuring that the required meetings are occurring and the correct information is being shared to empower the new team member to do their job competently.
For a more intensive training experience, comprehensive platforms such as MentorcliQ can be used to create personalized training and resources for each role in your organization. While it may require some work up front, this type of digital asset can make all future training occur efficiently and with little additional effort.
During the training period, it's also important that new employees have access and can learn how to use all of the company's productivity tools. This can include live messaging and video apps, shared calendars, email, productivity management tools and platforms, and any other document-sharing and editing tools. Understanding and using these resources correctly is often as critical to success as industry knowledge and experience. It's also related to managing their performance throughout any probationary period and beyond.
The Future of Onboarding
COVID-19 has quickly shown where the cracks are in current digital processes and capabilities—including the elements of professional workflows we can already manage digitally and those that may need more resources or refinement.
But the reality is that many of the changing workplace practices adopted during the pandemic—including an increase in remote work and an emphasis on mobility—are here to stay. The relevancy of physical proximity just isn't as vital in most industries as it used to be. And even processes such as hiring and onboarding can now be done successfully in a completely digital environment. While this article mentions several tools or resources that can be useful as you develop digital onboarding strategies, it's always worth taking some time to explore all options before you select tools to meet your specific needs.
We believe the future belongs to innovators and problem-solvers. It's our job to create connections that inspire success. That's why we've spent 20+ years building strong relationships and bringing together top tech talent and forward-thinking companies. Signature Consultants joined forces with DISYS to offer a more diversified portfolio of services. Through our company's IT staffing, consulting, managed solutions and direct placement services, we deploy thousands of consultants each year to support client's tech needs across the U.S. Signature Consultants is also parent company to Hunter Hollis. Learn more at sigconsult.com.