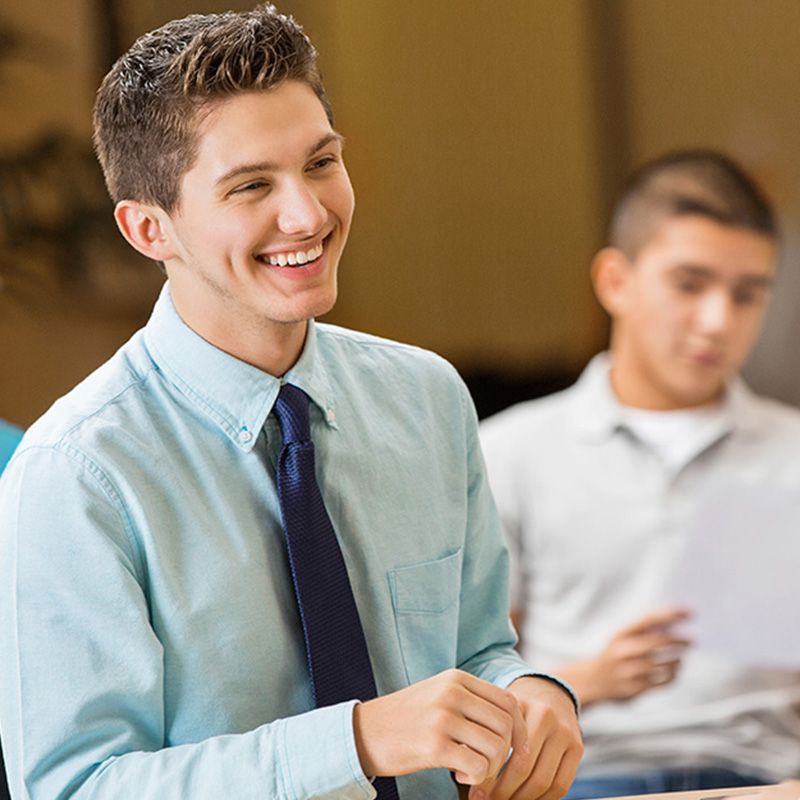 ​Amid the uncertainty of our current climate, many are taking time to consider and discover new home projects, wellness practices, education alternatives and professional opportunities. Whether you are an active job seeker looking for a position or considering a change in the future, there are ways to enhance your prospects and tap into new realms of possibility. One place to start is your online professional profile. With so many workplace activities shifting to online — including interviews, hiring and even onboarding — it's important to polish your professional profile and ensure you're putting your best self out there for your job hunt.
While it can seem overwhelming, updating and refreshing your LinkedIn profile doesn't need to be a cause for stress. In fact, these easy tips and tricks are designed to take very little time, and have the potential to yield big results and get recruiters to notice you in this new online hiring landscape. Use these tips to put forth a LinkedIn profile that truly represents you and your accomplishments, and sparks joy in the hearts of recruiters (Maria Kondo-style).
1. Let recruiters know you're open to opportunities.
This LinkedIn feature, available from LinkedIn's home page, privately signals to recruiters that you're open to new job opportunities. By selecting "yes" on the "Open to Job Opportunities" toggle button and specifying the types of job opportunities you're interested in, LinkedIn will include your profile in recruiter searches matching your career interests. You can enable this feature from your LinkedIn profile, and you can stop sharing anytime.
This feature is an easy way to show up in more LinkedIn search results and start getting contacted by more recruiters who are looking to fill the types of jobs that line up with your career interests. LinkedIn's statistics show that recruiters are over 2x more likely to respond to job candidates who have selected this feature.
To note: LinkedIn says they take steps to prevent LinkedIn recruiter users who work at your company from seeing your shared career interests, though they can't guarantee complete privacy.
2. Include a profile photo.
Your profile photo, or your "virtual handshake" on LinkedIn, is likely the first thing recruiters will see. Simply having a photo makes your LinkedIn profile 14x more likely to be viewed. Your photo should feel professional, but also approachable. This video by LinkedIn shows users how to take a great photo for your profile (without hiring a professional), and recommends that you choose soft, natural light, take advantage of LinkedIn's filters and ensure that your face takes up at least 60 percent of the frame.
If you opt to use an existing photo, LinkedIn recommends that you pick a high-resolution photo (400 x 400 pixels is the ideal size) that actually looks like you in everyday life.
Also, even though your family dog (or your entire family) may unexpectedly pop into video conference calls these days, keep your LinkedIn photo to just your face, unless animals or other people are clearly tied to your professional image. Smiling is generally better than a stoic pose, and choosing an outfit that represents what you'd normally wear to work is a winning strategy.

3. Write an attention-grabbing headline.
Not all people on LinkedIn agree on whether listing your current specific job title, or being more descriptive and value-driven for your headline, is a better policy. Whichever path you choose, it's important to think through your words carefully: these are the first words a recruiter will notice on your profile. Will it be enough to catch their attention?
Use your 120-character allotment to explain what it is that you do, whether through words that specifically describe your current role, or a one-liner that succinctly sums up the value you bring to others. Both approaches can be effective even if you're not currently employed and seeking work. A job title-related example might be "Holistic Nutritionist and Wellness Coach," while a more descriptive line might be "Designing Wellness Programs that Help People Live Healthier, Fuller Lives." You might even punch it up to say, "Award-Winning Holistic Nutritionist & Wellness Coach: Now Taking New Patients," or be company-specific: "Holistic Nutritionist & Wellness Coach at X Company."
Get creative. Consider one thing about your role, career, skills, or certifications that sets you apart, and incorporate it into your headline. Trial and error is encouraged here; see what yields the best results for you, and float options by family, co-workers and friends to get their first-impression feedback. As now is a bit of a wild west when it comes to a "normal" hiring process, it's a great time to test new methods to see what gets you the most traction.
4. Create a thoughtful summary.
Your summary is the text box at the top of your profile, just underneath your photo and headline. It's an open-ended space for you to give an overview of your professional life and tell recruiters and potential employers what you're all about and why they should hire you. As a LinkedIn article says, it's "the one place you define yourself in your own words, free of start dates and titles." It's your chance to put your best self out there.
A skillset and job description summary of 40 words or more makes it more likely for you to show up in LinkedIn search results, and sprinkling in keywords specific to your industry and expertise will increase your likelihood of showing up in more (and more-relevant) results. However, steer clear of using buzzwords and descriptive words or phrases that don't really mean anything.
And don't be afraid to add some personality to your summary: nearly 40 percent of recruiters say they're looking for this. After all, would you want to read a dry description of yourself? Write something you'd find compelling to read and focus on the career accomplishments you're most proud of. If you need some inspiration, this article showcases 10 examples of great LinkedIn profile summaries and explains why they work so well.

5. Focus on your skills.
Did you know that those with five or more skills listed on their profile are messaged up to 33x more by recruiters and other LinkedIn members? LinkedIn recommends that you include a mix of high-level and niche skills, and that you list them in the order of strengths you want to be known for, as they will target endorsers for top skills. The more endorsements you have for skills, the higher you rank in search results. You can also take assessments for the skills listed on your profile to demonstrate your proficiency in specific areas.
If you're struggling to define your current skill set or need an extra boost, LinkedIn Learning is another way to acquire new business, creative, and technology skills, or brush up on ones that have gotten a bit rusty. Courses, taught by industry experts, can range from "Learning ZOOM," to "UX Foundations: Multidevice Design," to "Social Media Marketing for Small Business." Take courses on your own time and add new skills to your profile with confidence (psst… the first month is free.)

6. Include measurable results.
Include specific examples of accomplishments in the current and previous jobs you list, and back them up with measurable results and hard numbers wherever possible. Including information like account growth percentages or direct sales success rates shows recruiters that you're analytical and results driven, and it's easier for them to quantify the value you bring to the table.

7. Introduce yourself through video.
Video introductions can show recruiters and potential employers your style of communication and other soft skills that are often hard to convey solely through an online profile. LinkedIn's new "video intro" feature "creates an opportunity for candidates to showcase their skills, experience and provide a more well-rounded human view of who they are." Two great things: The feature is optional, and candidates have the option to re-record their answers as many times as they like before they hit submit.
How it works: If a hiring manager requests an introduction as part of their hiring process, you can choose to respond either through video or a written response. Though either type of response has the ability to resonate, a video response adds a personalized element and may set you apart from a crowd of candidates.

8. Share original content.
Not everyone has an inner Hemingway—but everyone has valid ideas and opinions, and publishing original articles on LinkedIn's publishing platform is a stellar way to build your professional brand, share your insights, and get your content in front of recruiters. Articles on LinkedIn's platform are longer and more in-depth than the brief updates you may already be sharing. You can write about industry trends, challenges you've faced, how you achieved a new goal, observations about the direction of your industry in the current landscape, or anything else you want to share with your professional world. If you're ready to write your first piece, this is a good place to start.

9. Be proactive.
Setting up Job Alerts is a good way to stay on top of newly available opportunities during your job search that match your interests and qualifications. You can set them up to be delivered on a daily or weekly schedule, and choose whether to receive them via email or on the app. In addition, following companies you're interested in will help you keep tabs on new opportunities as soon as they arise, become more familiar with the leadership and culture and stay up to date on any network connections who work there.

10. Show volunteer experiences and causes.
Whether you've been a board member for a youth literacy organization, a dog walker for the local animal shelter, an organizer for your local food bank, a nursing home phone companion or a volunteer at your child's school, the ways in which you contribute your time and talents to your community and the causes you care about are an important part of your story. If you don't have a history of volunteering but would like to make that part of your story, find a cause that's meaningful to you and get involved. Your interest and commitment will shine through to someone reviewing your profile. It can also make a huge difference in the minds of recruiters, perhaps now more than ever, as they consider which candidates will be the right fit.
Lastly, remember that recruiters and hiring managers are adjusting to a new virtual hiring environment, too. Give them the benefit of the doubt as they navigate this new terrain, and they will likely return the favor. As they're working to find new ways to make candidates feel comfortable and welcome in the midst of a new hiring process, they will appreciate you making the effort to give your LinkedIn profile a mini-makeover and keep your skills current.
More LinkedIn FAQs
How to mention your notice period in your LinkedIn profile?
As long as you are still working for the company, we recommend keeping your LinkedIn account showing you as a current employee, because you still are. Once you have completed the notice period, imply update your LinkedIn profile to show that you are no longer currently with the company.
How to describe your job on LinkedIn?
When describing your current and previous positions on LinkedIn, make sure to add a detailed description of all of the tasks you worked on during the duration of your employment. Include software you are proficient in and goals you have helped the company achieve. This is the chance to brag about your achievements and accolades during your time in this position.
What does it mean when your LinkedIn profile appears in search results?
When your LinkedIn profile appears in search results, it means that your profile is visible to other LinkedIn users who are searching for people with your skills or experience. Your profile will appear in LinkedIn search results when a recruiter, human resources (HR), or other staffing professional searches for keywords or phrases that match the information on your profile.
How to respond to recruiters on LinkedIn?
When responding to recruiters on LinkedIn, make sure to do the following:

Demonstrate your gratitude by thanking the recruiter for reviewing your profile and reaching out.

Be clear on whether you are interested in the job they are hiring for.

Let them know your job search status. Are you actively looking for a new role or just exploring your options?

Include your contact details, this includes email, phone number, and availability over the next few days. Make sure to specify your time zone as well.
How to stop recruiters on LinkedIn?
To stop recruiters from contacting you go to your privacy settings and scroll to the section that says "Job Seeking Preferences." This will disable some features available to recruiters. This won't stop all recruiter outreach, but it will dramatically reduce the number of inquiries.
We believe the future belongs to innovators and problem-solvers. It's our job to create connections that inspire success. That's why we've spent 20+ years building strong relationships and bringing together top tech talent and forward-thinking companies. Signature Consultants joined forces with DISYS to offer a more diversified portfolio of services. Through our company's IT staffing, consulting, managed solutions and direct placement services, we deploy thousands of consultants each year to support client's tech needs across the U.S. Signature Consultants is also parent company to Hunter Hollis. Learn more at sigconsult.com.