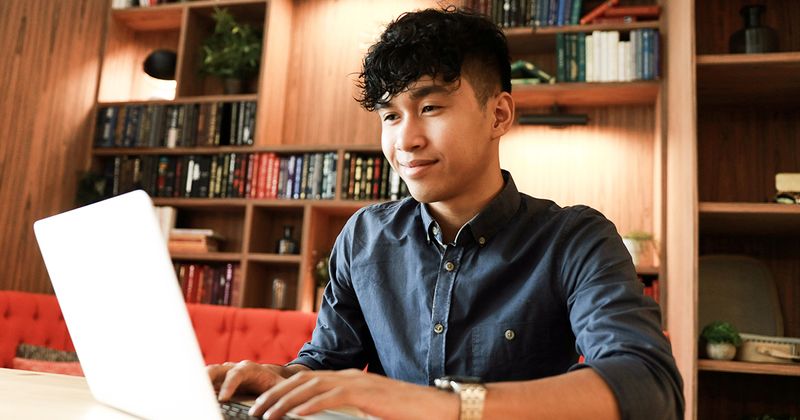 ​Graduating from college and entering the job market is an exciting professional milestone. You've put in the time and effort to get your degree and now it's time to put all your knowledge to work. And while the current job market is one of the most uncertain and turbulent in decades, there are still job openings available and plenty of opportunities to find a great fit at a reputable company.
Current unemployment is a staggering 11.1%, with projections showing a peak of 14% during the third quarter of 2020, with a continual decrease thereafter. Clearly, there are reasons for recent graduates to be anxious about their future career prospects. However, some companies are still hiring and there are ways you can stand out from the overcrowded candidate pool and secure the job you've spent years preparing for.
1. Do Your Research
You've spent the last several years of your life learning how to pull resources and conduct solid research, and now is the time to put those skills to work. Make a list of companies that interest you and research their websites, social media accounts, advertisements, and any other public relations material. Follow company pages for real-time updates and set up Google alerts so you never miss a valuable bit on insight. By keeping tabs on companies of interest, you can not only respond quickly when a job opening presents itself, but you'll be able to speak to current company matters if and when you get an interview.
2. Network
"The early bird gets the worm." There's no better phrase to encompass the importance of coming out of graduation strong. Yes, you've worked hard for four+ years, but the hard work isn't over yet because now is the best time to get out there and continue building your network. Maybe your friend's company just announced a new position and they want to open it up to employee referrals before they release it publicly. Maybe that recruiter who reached out to you on LinkedIn has an exclusive position that isn't posted anywhere on the Internet. Recommendations from others can often lead to a successful job match, and they can help you land the job you want. It's crucial to spend this time talking and connecting with friends, family, other classmates, recruiters, and even old professors or mentors to determine what positions might be compatible with your career goals and discover what companies might be offering those opportunities.
3. Update Your Information
When the perfect job opening comes along, you want to be ready. Update your resume and cover letter so you can submit them quickly when you do find a prospect. You should also update and develop your LinkedIn profile, which can increase your chances of being contacted about an opening. Be sure to highlight your skills that are essential for remote working arrangements, such as great communication, adaptability, technological proficiency, self-motivation, time management, and remote collaboration. These skills are particularly valuable to employers in today's environment.
Looking to get noticed? Read more ways to get recruiters to find, notice & contact you on LinkedIn.
4. Practice Interviewing
Nearly all HR experts will give you the same piece of advice when you ask them how to best prepare for an interview: practice, practice, practice! Recruit a friend or family member to stand in as the interviewer, and go through the entire meeting process together. Practice walking into the room, making direct eye contact, and smiling. Be open to feedback on your body language or general vibe, and adjust as needed until you can go through the motions effortlessly. While you can never be totally certain of the questions you'll be asked, you can definitely think of ways to convey the information you want about your skills, experience, and how you work. Practicing responses to commonly asked interview questions can give you a mental repository of responses to work with, which will ensure that you give more thoughtful answers overall.
5. Enhance Your Skills
With your college courses completed, now is the perfect time to continue enhancing your skills and certifications to ensure that you remain a desirable candidate. This is particularly true if you're in a field that evolves rapidly. However, no matter what your chosen profession is, continued education demonstrates that you aren't ready to just wait for an opportunity to happen—you're making things happen. This type of self-motivation is an incredibly desirable trait for employers (more so now than ever before), and it will definitely help you gain an advantage over the other candidates. Check out LinkedIn Learning for an easy way to gain new knowledge from real-world professionals.
6. Consider an Internship
Finding permanent employment in the job of your dreams may take longer in the current job market, but that doesn't mean that you can't gain valuable experience in the interim. Consider internships that can help you enhance your skills, make new connections, and gain a better understanding of what the day-to-day looks like in your chosen profession. And while your top companies might not be hiring permanent positions during the time of your job search, internships are a great way to get your foot in the door and show your skills so when a position does open, you'll be one of the top contenders. Many companies, including Signature, are continuing to offer an array of internship opportunities throughout the COVID-19 period.
7. Look at Contract Opportunities
Last year alone there were over 57 million freelancers in the U.S. driving more than $1 trillion of income. There are a number of reasons that contract positions are desirable for job seekers: temporary contracts allow you to work at different companies for a shorter amount of time and learn and grow from different working environments; you can work on projects specific to your skillset; pay rates for skilled consultants are often on par with or higher than that of salaried workers; various benefits packages are available through staffing companies so you won't have to go without coverage; and you have enhanced flexibility by choosing to take work when it's most convenient for you. Additionally, many companies offer contract-to-hire positions, so if it's a good fit for you and the team, you may be offered full-time employment at the end of your contract.
8. Work Hard, Be Patient
One of the biggest keys to finding a great job in the post-COVID19 era is going to be resilience. There's no doubt that searching for a job, going through the hiring interviewing process, and even onboarding will be more complex than it has been in the past—and it will likely take far longer, which is why candidates need to be patient and persistent. Many candidates may experience job-search fatigue and burnout after searching unsuccessfully, but staying hopeful and putting in the necessary effort will pay off in the long run.
Few job market entrants will be facing the same level of adversity as our most recent graduating class, but the post-pandemic market is providing new grads with the opportunity to truly demonstrate how well they can perform in the face of daunting challenges. By remaining calm, patient, and persistent in your goals, there's no doubt that employers will take notice and you'll soon be on your way to securing the type of employment you're seeking.
We believe the future belongs to innovators and problem-solvers. It's our job to create connections that inspire success. That's why we've spent 20+ years building strong relationships and bringing together top tech talent and forward-thinking companies. Signature Consultants joined forces with DISYS to offer a more diversified portfolio of services. Through our company's IT staffing, consulting, managed solutions and direct placement services, we deploy thousands of consultants each year to support client's tech needs across the U.S. Signature Consultants is also parent company to Hunter Hollis. Learn more at sigconsult.com.