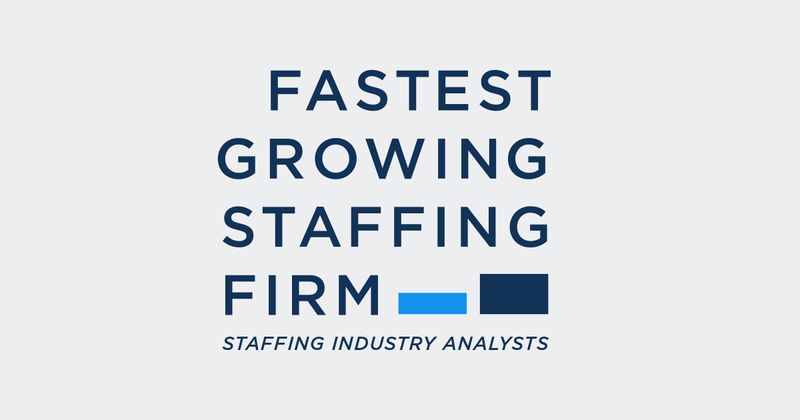 ​Signature Listed Among SIA's Fastest Growing U.S. Staffing Firms
For the Signature team, "doing the right thing" means rolling up our sleeves and working hard, treating every person as a friend, and always striving for honesty and integrity. This philosophy continues to fuel our culture and has paved the way for creating lasting relationships with our clients and consultants.
Being recognized among Staffing Industry Analysts (SIA's) Fastest Growing U.S. Staffing Firmsis an accolade that we hold dear, as it speaks to the long-standing relationships we have established through the trust of our clients and the determination of our consultants and employees. Because the designation ranks firms by compound annual growth rate for staffing revenue over the span of five years (2015 through 2019), it weeds out the "flash-in-the-pan" effect and recognizes those who persist over time, and who strive to do things the right way, every day.
We believe our continued growth is built upon our commitment to learning – learning from our clients, consultants and teams, and applying that knowledge to better serve each other. We share a growth mindset that is reflected in our culture. We persist. If we fall, we come back stronger. We make time to mentor and learn more about ourselves in the process. Those with a growth mindset see challenges and failures as opportunities to improve and develop skills. They cultivate a love of learning. They build the resilience that is essential for great accomplishment. Likewise, those we partner with are curious, eager and resourceful, and we are continuously grateful for the opportunity to work and grow alongside them.
"Being recognized for these awards speaks profoundly to how we come together and face challenges and achieve goals as a team," according to Jay Cohen, Signature Founder and CEO. "We are who we are because we're rowing the boat together. You see it in moments: when one person is struggling and a team steps in to help. When a friend 'checks in' and offers needed encouragement. When people hold themselves, and each other, accountable. These individual moments of living our values create a culture of personal growth. When everyone is growing, the growth of the company follows suit." Cohen adds, "I am incredibly proud to be witness to the integrity, the friendships and the culture of support that has become our greatest asset."
We believe the future belongs to innovators and problem-solvers. It's our job to create connections that inspire success. That's why we've spent 20+ years building strong relationships and bringing together top tech talent and forward-thinking companies. Signature Consultants joined forces with DISYS to offer a more diversified portfolio of services. Through our company's IT staffing, consulting, managed solutions and direct placement services, we deploy thousands of consultants each year to support client's tech needs across the U.S. Signature Consultants is also parent company to Hunter Hollis. Learn more at sigconsult.com.