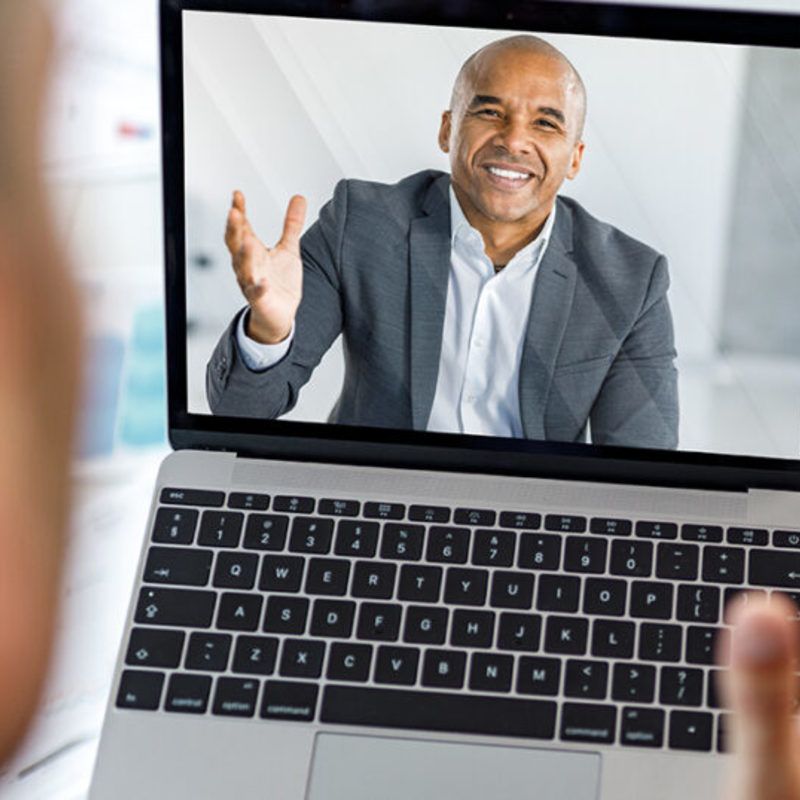 ​​The in-person interview and hiring process has evolved into a largely virtual environment. At Madison Gunn, though the process looks different in terms of tools and capabilities, it's still just as effective and efficient for our clients—and in some ways, it's even better. The virtual process has filled in gaps that previously existed in an in-person environment, widened the pool of highly qualified available talent, and significantly sped up time to hire.
Madison Gunn has quickly adapted to this new environment by using the latest virtual tools and applying our team's collective expertise to guide our candidates and clients through the search process and meet, or exceed, timeframe expectations. The tools and processes we use and recommend to our clients are not one-size-fits-all; every firm and every situation is unique. Throughout it all, our top priority continues to be screening and selecting the best candidates for our clients.
Madison Gunn's Process in a Virtual World
For a retained executive search, our team kicks off the process by setting up a Zoom call with our client to discuss the exact goals and ideal candidate for the search. Over the next two weeks, Madison Gunn's search experts network, build up a database of potential candidates, and establish initial interview dates. This is followed by a series of "getting to know you" Zoom calls with candidates to assess their general qualifications and fit for the role. By day 30, the team is reviewing candidate profiles with our client, gaining additional insights, and adjusting the pool of candidates based on client feedback. Throughout the next month, a shortlist of candidates is developed, and the Madison Gunn team conducts face-to-face Zoom interviews with candidates.
At this point in the process, the client can choose which of those candidates on the shortlist they want to move forward with. First rounds of 30-minute virtual interviews between the candidate and the client are scheduled, followed by reference checks and a second round of longer, more in-depth interviews between the client and candidates. If Madison Gunn and our client agree that an assessment tool will benefit the process, it will be given at this point. From there, the final interview may be in person or virtual. Once the client selects a candidate, an offer is made and negotiations begin. By day 90, an offer is accepted.
For an interim executive search, the timeframe is significantly shorter. Interim executive profiles are presented to clients within 48 hours after the initial scoping conversation between Madison Gunn and the private equity firm/portfolio company. Engagements typically close within 2–4 weeks, depending on the client's interview process.
Each of these search methods—retained and interim—has its own timeline and goals particular to a client's needs. They both address the demands of our current hiring climate, while incorporating virtual elements that have only recently become the norm.
These virtual elements bring more speed, breadth of qualified talent, and efficiency to the interview and hiring process, but they also often involve a learning curve for candidates and clients. Discovering new ways to attract the highest-quality executive talent while behind a computer screen is of utmost importance—and it could mean the difference between signing on your perfect CEO or CFO or letting them get away.
How to Put Your Best Face Forward
Although today's hiring climate may look a bit different, both employers and candidates are settling into a new normal together. What worked for your firm just months ago may need some minor tweaking or even a major overhaul now. How can you think outside the box and get creative to find the right candidates in these virtual times?
A big part of being successful in a virtual hiring environment means welcoming the unknown and being graceful during both candidates' and your own missteps. While not having access to the usual norms may feel strange or uncomfortable, some clients are finding ways to get to know candidates and build mutual trust in nontraditional ways. Consider a different approach to the typical interview, and brainstorm conversation points or questions to ask that are reflective of our current reality: offering interesting or funny anecdotes about how you're managing during this pandemic, asking opinions on the state of fall or winter sports, or mentioning a favorite new recipe you tried for dinner (or a recipe experiment gone awry) can break the tension. Don't underestimate the power of small talk at a time when it's vital to be able to feel a connection to others.
Consider veering from the usual virtual interview by hosting a "virtual roundtable dinner" on Zoom, or conducting a speed round of questions that both your interviewers and the candidate can ask each other during an online meeting. Explore other ideas to get to know the personal side of candidates, particularly in the final stages of interviewing, where screening for culture fit becomes increasingly crucial. Getting creative can also help potential hires see a different side of you and of the firm's culture in an authentic way.
Best Practices for a Virtual Interview Process
People at your firm may be at varying levels of comfort with virtual interviews. Consider taking stock by hosting a mock interview via Zoom and inviting everyone who will virtually interview your candidates at some point. It's important to ensure that everyone who will be in front of candidates on video is comfortable not only with the technology, but also with interacting professionally and effectively on the platform. Practicing via a run-through is one of the best ways to ensure that everyone is on the same page and allows you to work out any issues that come up ahead of time. Figure out any technical snafus well ahead of schedule, so you're not left scrambling—and making a terrible first impression on a candidate.
Keep a few best practices in mind for the day of the interview as well:
Be early. As the host of the video call, you should plan to log on to the interview before anyone else. Get your questions and notes in order, and clear the space around you to help clear your mind and minimize distraction for you and others on the call.

Be mindful of your body language. Maintain consistent and friendly eye contact with your candidate (this is also helpful to practice ahead of time in a mock interview). How you carry yourself is important, and it's often what you don't say that will leave candidates with the biggest impression of your firm, culture, and personality. Watch your posture and maintain a professional but approachable demeanor. You're conducting an interview, but it's still important to (literally) read the room. Being outside the confines of a boardroom lends a more personal feel to the situation, which can naturally allow for deeper and more honest conversations with candidates.

Consider your dress code. Keep in mind the message you're sending candidates with what you choose to wear. Select an outfit that accurately reflects your company culture in the office.

Remember to listen. The ability to listen is arguably more important than the tendency to talk. Get comfortable with pauses and think of them as an opportunity to let your candidate hear their own thoughts and expand on them in a more meaningful way. Silence isn't always a bad thing.

Make candidates feel comfortable. Remember that candidates may be nervous, not only because they're being interviewed, but also because this could be their first interview in a virtual environment. Make an extra effort to be personable, kind, and forgiving of small missteps that might be amplified through a screen.
While these tips may seem basic, being prepared on your end will help candidates feel comfortable and engaged, and will help the interview as a whole run smoothly and be more effective.
Filling in Gaps with Assessment Tools
Many of our clients have implemented new tools to allow for a more efficient process, such as Zoom, Microsoft teams, and GoToMeeting. In addition, the right assessment tools—which may include behavioral, personality, or real-life assimilations, can strengthen a firm's ability to make a confident decision about whether a candidate is the right fit for a position. In light of some typical methods of assessing a candidate not being currently available, these types of tools are being utilized on a larger scale to help clients make more informed hiring decisions.
Our team of search experts will typically suggest an assessment tool if a client is experiencing gaps in the virtual process, or needs additional support and insight to come to a decision. We have trusted assessment partners we work with hand-in-hand, although we caution clients that an assessment tool isn't always the right option. Although there are many tools out there, it's a matter of finding the best fit for a firm's team and culture. Sometimes, it's more about figuring out their pain points or hesitations about the virtual process, and addressing those issues. More often than not, it's a simple fix.
Exploring Advanced Features of Tools Like Zoom
As virtual ways of doing business continue in the future, your firm may also want to delve more deeply into advanced organizational tools that video conferencing platforms like Zoom offer, especially after gaining proficiency with the basics. These tools can be useful for executive candidate interviews, onboarding, and regular staff meetings and brainstorming sessions. They include options like breakout rooms, which enable organizers to split Zoom meetings into up to 50 separate sessions; sharing whiteboards and enabling co-annotation for increased interaction; and "Zoom rooms." When considering ways to get to know executive candidates and make virtual interviews more interactive and collaborative, consider how tools such as these can assist you
Reset Your Expectations
You may need to shift your mentality in terms of expectations on the back end of the virtual hiring process. Even if your team has easily settled into a virtual interview process, reconsider other aspects that you may formerly have taken for granted—travel, moving, 30/60/90-day plans—and how those affect your potential hires. What do you, and should you, expect from a new hire at this point in time? What that looks like today is likely very different from what it looked like last year. You don't want to miss out on the right person because you're still stuck in a pre-pandemic mindset. Your choice for an executive hire might not be ready, or able, to relocate at the moment. You may need to consider remote onboarding and a modified 30/60/90-day plan. Life is complicated right now, so be flexible and make it as simple as possible for them to decide whether or not to come on board.
Call on Us for Guidance
While the Madison Gunn executive search team has adapted for a newly virtual process, the core and goals of our process remain the same: to help private equity firms and other organizations select the best executive candidate, effectively and efficiently. We're proud to continue to consistently deliver the best candidates to our clients and make the hiring process smooth and mutually rewarding for all parties.
Not sure where to start? Contact us today to chat with one of our executive search experts about your talent needs.
We believe the future belongs to innovators and problem-solvers. It's our job to create connections that inspire success. That's why we've spent 20+ years building strong relationships and bringing together top tech talent and forward-thinking companies. Signature Consultants joined forces with DISYS to offer a more diversified portfolio of services. Through our company's IT staffing, consulting, managed solutions and direct placement services, we deploy thousands of consultants each year to support client's tech needs across the U.S. Signature Consultants is also parent company to Hunter Hollis. Learn more at sigconsult.com.