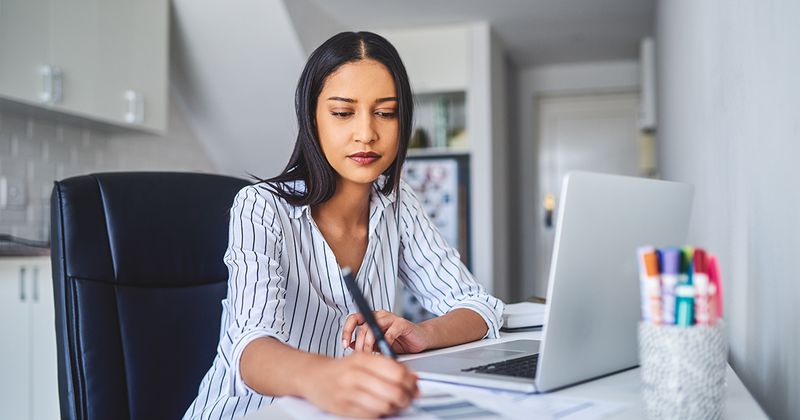 ​2020 has rightly earned its share of widespread disdain. Many can't wait to collectively sigh as the clock strikes 12:01 a.m. on January 1, 2021—officially marking the end of a year that's been described by some as a "dumpster fire" and that will be remembered for its abundance of changes. It would be easy, then, to disregard this past year as an anomaly, without another thought, as we plunge into a new year. If, however, we take a closer look, we find that 2020's lessons have given us opportunities to take stock, move in new directions, and transform both our short- and long-term motivations.
Whether you're seeking a job, considering a career change, or mulling a new path in another aspect of your life, these ideas can help you take the best from 2020—and leave the rest behind.
1. Explore new geographic frontiers
There's never been a better time to look for a job in locations you wouldn't have dreamed of considering in the past. Why? Remote work has greatly increased since pre-pandemic times, and it's likely here to stay. Forrester predicts remote work will have a lasting 300 percent increase over pre-COVID levels. With a large percentage of workers now remote, people are finding that not only are they more productive when working from home, due to factors like the lack of commute and fewer distractions, but also that geography is no longer a barrier to the job or career they really want. Many employers are hiring workers who are scattered around the country, and around the world. Millions of remote workers are set to move to smaller cities or other places that better fit their budgets and personal situations, as they're no longer required to live near their place of work. This trend is also a boon for employers who typically have a tough time finding skilled workers in their immediate area. Remote work gives employers the ability to cast a wider net and consider highly qualified candidates they previously may not have had access to, due to geographic limitations.
This increase in remote work gives you an opportunity to widen your own net and heighten your chances of finding not just a job, but a job that may not have been in your reach in the past. Consider the types of places you'd want to work if location weren't on the table—because more and more, it isn't.
2. Find businesses that resonate with your values
The past year has reminded us to prioritize what's most meaningful to us, and be more intentional about our everyday and long-term choices. An Imperative survey of LinkedIn members found that 73 percent of purpose-oriented employees (those who prioritize work that matters to them, their company, and the world) are satisfied in their jobs, compared to 64 percent who aren't purpose-oriented. The survey also found that they outperform their peers in every indicator, including expected tenure and leadership competencies. Finding a company whose values align with yours can help you find a purpose and a mission amid the uncertainty around you.
Though the pandemic has set some businesses back and shuttered others altogether, some industries have managed to not only survive in 2020, but to thrive. Do some research and you'll likely come across employers who have made solid business decisions this past year that point to a strong financial future for the company, while also resonating with you on a personal level. Which employers do you look up to as an example of innovation or strength in the face of adversity? Which ones have treated their employees well, despite the limitations they're up against? Find those you wish to pursue as a potential employer and learn more about their hiring needs. In Seth Godin's applicable advice for organizations and the people who work for them, "If you aren't willing to live your values now, when will you start?"

3. Consider short-term and long-term opportunities
At some point, one of the hallmarks of 2020 became "anything goes." We saw amateur bread baking, school-via-Zoom and tiger-centric true crime documentaries grip the nation. In this spirit, the year has given us the opportunity to try out new or unconventional ways of doing things, reconsider the paths we're on, and redefine our career goals.
Exploring new types of employment is one way to do this. You may not know what your long-term career path looks like, or you may have been laid off during the last several months and are finding it difficult to secure work. For either of these reasons, a short-term opportunity or series of contract opportunities may be key to helping you rediscover your path and achieve your long-term goals. And as contract work is on the rise, the outlook for job seekers is only getting better. According to Gartner research, 32 percent of organizations are replacing full-time employees with contingent workers to fill immediate needs as they transition and prepare for a post-pandemic world. Your talents may be the perfect match for one of them.
If you haven't settled on an industry or specialty that suits you, now is a great time to expand your comfort zone and try something new. When it comes to the right fit, what worked for you in 2020 may feel all wrong for you in 2021.
4. Expand your technical skillset
As the pandemic has forced many employers to lay off talented employees, the current market is full of highly qualified people vying for jobs. Finding ways to set yourself apart in today's competitive environment is essential, and showcasing new skills is one way to do that. As AI and technology change businesses in new ways, the skills and talents employers need are changing, too. Forrester predicts that by the end of 2021, one in four information workers will be supported in their daily work by software bots, robotic process automation, or AI. Technology skills are in demand. The pandemic has fast-tracked the need for workers proficient in analyzing data who can help manage digital transformations to make companies more resilient to future pandemics, as well as more protected against cyberattacks, which have increased during the pandemic. Use tech boot camps or self-training to gain in-demand expertise and get a foot in the door. In addition, consider taking courses using online learning sites like Udacity or Coursera to boost your skills on the side.
Whether you're currently employed or on the hunt for a job, taking the initiative to expand your skill set in new ways will help your current employer, and make you more marketable, well-rounded, and ready to adapt to a 2021 workplace.
The last year hasn't been without its challenges—but those challenges have given us a chance to grow and make changes, both big and small. In the words of Oprah, "Cheers to a new year and another chance for us to get it right." Check out the second part in this blog series for more ideas to make 2021 your year.

Unsure where to start in your search? We can help. Reach out to us todayto kick-start your career goals and start 2021 off on the right foot.
We believe the future belongs to innovators and problem-solvers. It's our job to create connections that inspire success. That's why we've spent 20+ years building strong relationships and bringing together top tech talent and forward-thinking companies. Signature Consultants joined forces with DISYS to offer a more diversified portfolio of services. Through our company's IT staffing, consulting, managed solutions and direct placement services, we deploy thousands of consultants each year to support client's tech needs across the U.S. Signature Consultants is also parent company to Hunter Hollis. Learn more at sigconsult.com.