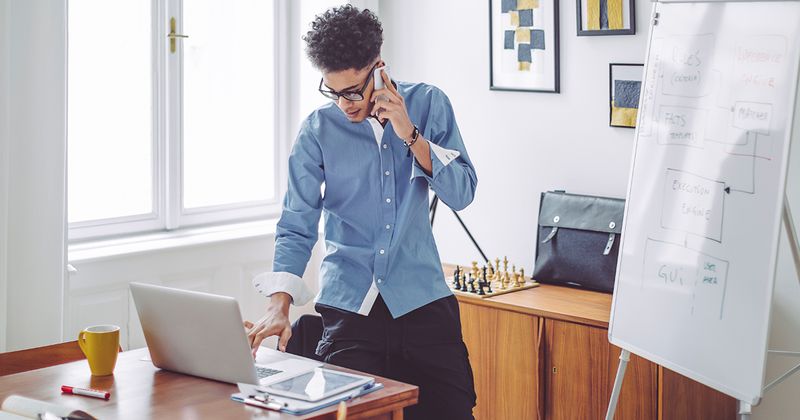 ​You may be hard-pressed to find many people gushing, "2020 was really my year!" After all, the past year has been full of changes that we as a society had to learn to grapple with, and a multitude of challenges to overcome. But in the face of adversity, we have the choice to learn, grow, and improve the way we do things—and that can make all the difference as we embark on a new year.
In part one of this blog series, we focused on changing your perspective on the who, what, where, and why of your career. Here, we focus on those all-important but often overlooked variables around the career you've built. Even small shifts in your daily choices can make a huge difference over the next 365 days (and beyond).
1. Understand and highlight your soft skills
Soft skills, otherwise known as emotional intelligence, have also become increasingly important when it comes to candidate marketability. LinkedIn's 2019 Global Talent Trends report found that 92 percent of hiring professionals consider soft skills to be just as important as hard skills. As organizations grapple with the fallout from the pandemic and a largely virtual workplace, soft skills necessary to their teams' success have taken on new urgency. Many organizations are seeking candidates who possess skills such as empathy, adaptability, communication management, self-motivation and discipline, creativity and critical thinking, leadership, time management, and conflict resolution in their day-to-day roles—and who, in an interview situation, can demonstrate how these skills have supported their employers and their colleagues over time.
Make a list of new experiences and initiatives you've been involved in this past year, and the transferrable, resume-worthy skills you've gained as a result. New experiences are shaping us in ways we may never have anticipated just months ago, and opportunities for employees have emerged out of necessity. Which projects or initiatives have you taken on during the pandemic that weren't part of your prescribed duties? Perhaps you took the lead on initiatives like Zoom "Happy Hour Fridays" at your company, or perhaps you started up a professional book club or virtual meetup during unemployment. Your efforts have likely taught you leadership, project management, and communication skills, along with technical skills essential to a remote environment.
Taking the time to expand your soft skills will make you more in-demand in a 2021 workplace—as well as a better colleague, a stronger leader, and a more well-rounded person.
2. Update your online presence
Out with the old, in with the new…and that includes how others see you online. It's a perfect time to do a tune-up of your online presence and start building your personal brand to set yourself apart. Does your online presence reflect who you really are today? Make an inventory of your current social media accounts—including those you're not active on anymore (the Internet never forgets, after all). Deactivate or delete the profiles you don't use or that you can no longer dedicate time to on a regular basis. Then, spend time evaluating those you do spend time on. Take a new picture for your professional profiles. Look at your accounts through a potential employer's eyes and ask, "What do they see? How am I presenting myself? And would I hire me?" Who you are, what you believe, and what you've learned may look very different today than it did a year ago. Which aspects of your life do you need to adjust to match the future-facing you? Make small tweaks or bigger overhauls as needed. Bring your efforts full circle by giving your resume a refresh to reflect these changes.
If streamlining isn't enough, consider a social media detox to get you into a deep work mindset before 2020 comes to a close. Eliminating distractions, computer science professor and author Cal Newport argues, will help you spark new ideas, write, create, and dive into more cognitively challenging work. How you choose to spend your time now can greatly affect what you get stuck on—or stoked by—working in 2021.
3. Refresh your routine
Resetting your daily routine is easy to overlook, but it can have a monumental impact on your personal and professional relationships. The end of the year, when everything else is quietly wrapping up, is a great time to find out what's working (or not) and add or delete steps in your day that may currently be holding you back. What does your ideal "new norm" routine look like, and how can you get there? Here are a few ideas to consider:
Modify your morning. In terms of their morning routines, we've learned that successful leaders all have something in common: they all take the time to slow down and focus on their mental and physical needs, even if they only have a few minutes to spare. That time may include things like meditation, a morning walk or workout, a healthy breakfast, reading, or journaling. In her podcast "Do the Thing," Whole30 founder Melissa Urban details how her morning routine (which includes cold showers!) is essential to set her up for a successful workday. Which habit or practice can you try incorporating into your morning routine or nighttime wind-down to bring you more clarity and calm? Sleep, nutrition, and movement are all important elements of a sound body and mind—and a successful workday.

Get unconventional. Creating a no-complaining zone, finding ways to show up for others, getting involved in a community cause, forgiving your failures, or prioritizing play may be just the ticket to the reset you crave. Check out these nine unconventional ways to refresh your current mindset and improve in small but meaningful ways as you move into 2021. When you feel good in other areas of your life, you're more free to focus on and gain clarity around your career goals.

Get outside yourself. Volunteer to a cause that's meaningful to you, whether through your time, money, resourcefulness—or a mix of all three. Commit to three ways you can make changes to your routine or volunteer your time to make a greater impact on your community this next year—and then schedule them into 2021's calendar. This creates accountability, and makes you more likely to actually follow through. Remember, change may start small, but it can snowball and lead to a much bigger result. Getting outside of ourselves and giving back to our communities is not only great in itself, but it can also help you gain perspective on what's important in your own life.
As author Haruki Murakami wrote in Kafka on the Shore, "When you come out of the storm, you won't be the same person who walked in. That's what this storm's all about." 2021 is yet unwritten, but the decisions you make now have the potential to transform you, and next year's story, in rewarding ways.
We believe the future belongs to innovators and problem-solvers. It's our job to create connections that inspire success. That's why we've spent 20+ years building strong relationships and bringing together top tech talent and forward-thinking companies. Signature Consultants joined forces with DISYS to offer a more diversified portfolio of services. Through our company's IT staffing, consulting, managed solutions and direct placement services, we deploy thousands of consultants each year to support client's tech needs across the U.S. Signature Consultants is also parent company to Hunter Hollis. Learn more at sigconsult.com.