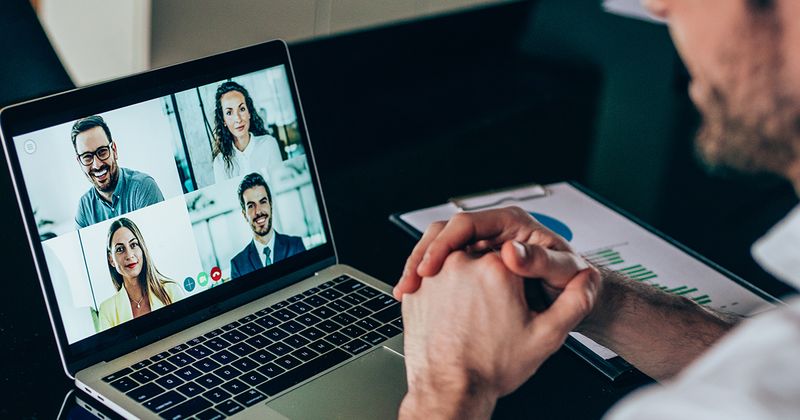 These types of skills are harder to measure, but candidates who possess them are highly marketable in today's environment. The skills below stand out as key strengths for IT professionals to focus on as we embark on a 2021 workplace—one which may look very different than it does now.
Communication.
Communication is arguably the most vital soft skill for workers in any industry. In a remote environment, workers don't have the usual in-person nonverbal cues at their disposal. They must be able to effectively and persuasively explain new technologies to both technical and non-technical employees and teach how to use them, while accurately interpreting what others are saying and asking. IT professionals with effective communication skills are likely to be taken more seriously as they propose innovations that have the potential to cut costs, boost productivity, or increase sales, says Allan Berkovitz, director of IT for PR firm Makovsky & Co. Organizations need leaders who can effectively communicate in transition periods, and get others on board during times of change.
Collaboration.
Collaboration goes hand in hand with communication, and it is especially important with remote workers and teams scattered across the country or across continents. Organizations need people who can successfully work with others to extract meaningful insights from data. IT professionals with a lack of collaborative skills are even more noticeable in today's workplace, as they are often working directly with executives to complete initiatives that drive business across the organization. And as many enterprises shift to a product-based delivery model, IT workers will need to collaborate on the creation of a product versus focusing on the delivery of a project, and these skills will be key. A whopping 71 percent of survey respondents said a lack of collaboration skills among IT professionals had delayed completion of technology projects and 43 percent said it led to lower-quality outcomes. As Greg Layok, managing director at West Monroe Partners, says, "Hiring a developer who's not collaborative, who doesn't work well with the team is not a neutral value-add. It's a negative."
Curiosity.
An innate desire to understand how processes and systems work, and to explore ways to add value for the business, is a much-needed trait in IT workers. Particularly now, when organizations have been forced to change course and find new ways to accomplish their goals, curious IT workers will say, "What worked yesterday no longer works, so we're going to forge new paths and figure this out." Curiosity helps you not only build on your knowledge, but also to find alternate solutions on the fly when they're needed most. Being a curious employee can help your organization solve pressing business problems and come up with innovative ideas that help solve customers' biggest pain points. Sometimes, it's the people who get curious in the toughest times who discover something that makes a huge difference.
Critical thinking.
People aren't machines, and despite—or perhaps, because of—the influx of AI and machine learning into the mainstream workplace, IT professionals must be able to determine which data has value, and how that value be applied to real business problems. Organizations are seeking workers with the ability to turn raw data into meaningful insights for their organization, and apply that data to make process improvements; implement new technologies; and develop and deepen insights. Workers with the ability to flex their critical thinking muscles can make positive waves across the organization, while improving the lives of their external customers. In a landscape that is changing so rapidly, organizations need workers who can think critically and creatively, and work with others to find their way through challenging situations.
Empathy.
Colleagues should strive to be empathetic to one another, even in the best of times. So it goes without saying that in the midst of a pandemic, a lack of empathy may be a deal-breaker. Your colleagues or your clients may be facing challenges that go far beyond the office walls, and 2021 will likely be full of new professional and personal challenges. The ability to understand what someone may be going through, or simply ask how you can help, can build immeasurable trust that translates to a better working relationship. Even humanizing the stand-up meeting for modern times by asking the team, "How can I best support you this week?" at the start of the call can make a big difference in team relations. And if you're just not sure how to support your co-workers, start by asking thoughtful questions, listening carefully, and making space for others' thoughts and ideas.
Agility.
In the future, as more and more enterprises are shifting from project-based IT to product-based delivery, employees will be increasingly tasked with ensuring that their actions provide value to the customer. This style of delivery relies much more on agility and mid-course adjustment, rather than attaching all budgeting and staffing decisions to an initial project plan. This is a major shift that also calls for new soft skills, including perhaps most prominently, agility—which involves the ability to predict change and proactively work to implement the needed resources to manage that change. Agility involves adaptability, clear communication, and frequent collaboration and agile leadership can provide clear direction and reassurance in times of uncertainty. In a fast-paced tech landscape, many organizations are working against the clock to move more quickly than the changes that are happening around them—and agile workers are in high demand.
Adaptability.
Being adaptable to change is a key part of agility, though on its own it's also a marketable skill. Adaptable workers are able to continue to move upstream amid external threats and unknowns—including a pandemic. Successfully working, learning, and weathering the storm raging outside (or inside one's own office walls) is a key part of being adaptable, and as leaders are uncertain what next year—or even next month—will bring, it's a highly desired trait. Adaptability may also mean willingness to jump into projects, duties, or roles outside of your usual scope, and as teams become leaner and organizations need to pool resources, adaptable employees can be a lifesaver.
Time Management.
Working from home has been a new experience for many workers. In fact, for most workers and employers, remote work was a completely foreign concept before the pandemic hit. It's been a big learning curve for many, and those who have learned to successfully work in a remote environment, manage their time, and even thrive, are highly valuable to today's employers. With more work and fewer resources, companies are stretched thin, and time is a valuable commodity. An employee who can confidently do their work efficiently, deliver results in a timely manner, and take on new projects as needed without micromanagement from their likely overburdened manager takes the pressure off both parties and enables important projects to flourish.
Are you looking for a staffing strategy for your technology team? If so, Signature Consultants can help. Contact us to get started today.
We believe the future belongs to innovators and problem-solvers. It's our job to create connections that inspire success. That's why we've spent 20+ years building strong relationships and bringing together top tech talent and forward-thinking companies. Signature Consultants joined forces with DISYS to offer a more diversified portfolio of services. Through our company's IT staffing, consulting, managed solutions and direct placement services, we deploy thousands of consultants each year to support client's tech needs across the U.S. Signature Consultants is also parent company to Hunter Hollis. Learn more at sigconsult.com.