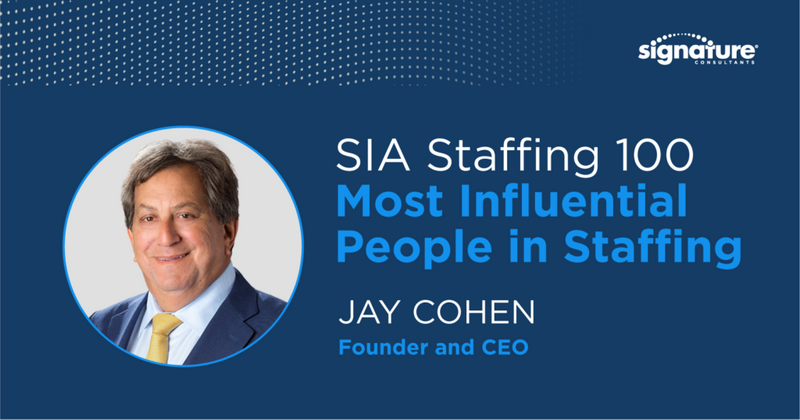 ​Dr. Jay Cohen makes coveted list for the 5th consecutive year
At a time when influential and inspirational leadership is more important than ever, we are profoundly grateful to have such a leader at the helm of Signature Consultants. Founder and CEO Dr. Jay Cohen has consistently set the gold standard for operational practices, influential leadership, and business performance. So, it is a great honor to announce that Dr. Cohen has been included in the 2021 Staffing Industry Analysts' (SIA)100 Most Influential Leaders list for the fifth consecutive year.
The SIA list recognizes the leadership, talent, and commitment of those driving efficiencies, impacting legislation, and advancing the ecosystem. It includes a wide range of roles, including CEOs, entrepreneurs, technologists, workforce specialists, and data scientists, all from a variety of leading companies and industries. Each year, professionals in the staffing industry nominate their peers who have influenced the world of work. The editorial team at SIA reviews the nominations to determine whose vision, excellence and drive over the past year truly stand out.
Dr. Cohen's visionary leadership style has been a driving force from the start. He founded Signature Consultants in 1997 with specific philosophies and guiding principles in mind – namely, to always do the right thing', to treat everyone with a 'friends first' attitude, and to always act with honesty and integrity. Together, these principles drive Signature's model: Do right by your clients, create relationships that transcend the deal, and work hard to take care of one another. Dr. Cohen's unwavering commitment has given rise to the company's rapid revenue growth, greater market share, and a reputation as a great place to work and a great firm to work for
"I am beyond honored to be included alongside this list of prestigious and celebrated innovators," said Dr. Cohen. "The founding principles that are deeply rooted in how we conduct business, support community and advance the industry are not complex, but they are so powerful. Perhaps even more critical now than ever before, these principles are ones to live and work by in these times of unprecedented disruption and in the years of greater prosperity to come. Keep your focus on relationships and the rest will take care of itself."
To learn more, read our press release.
We believe the future belongs to innovators and problem-solvers. It's our job to create connections that inspire success. That's why we've spent 20+ years building strong relationships and bringing together top tech talent and forward-thinking companies. Signature Consultants joined forces with DISYS to offer a more diversified portfolio of services. Through our company's IT staffing, consulting, managed solutions and direct placement services, we deploy thousands of consultants each year to support client's tech needs across the U.S. Signature Consultants is also parent company to Hunter Hollis. Learn more at sigconsult.com.