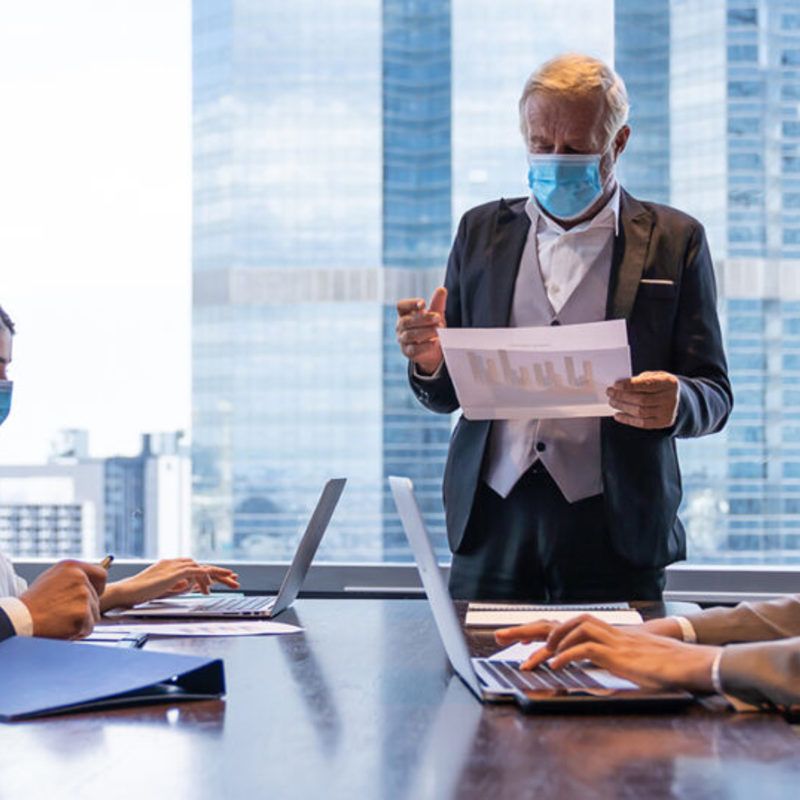 ​It's safe to say that we're living in a very different world today than we were a year ago. Amid all the changes, pivots, and FFTs (as Brené Brown so aptly named them) we've experienced both as a society and as individuals, some things are different—like the way we grocery shop, the spaces we now consider to be our offices, and the logistics of doing business through a computer screen. Others, like the importance of relationships in hiring, finding quality executives to fill leadership roles, and authenticity in our words and actions, remain as true as ever, even if some of the ways we do this may be evolving.
After reflecting on a year of change, we're sharing the workplace and hiring tips and trends that still ring true—perhaps now more than ever—as we settle into 2021 and prepare for a post-pandemic world.
1. Interim hiring offers much-needed flexibility and stability.
As long-term staffing needs have gotten more unsteady and more companies have been forced to restructure, interim hiring has become an increasingly attractive option. More PE firms are seeking out interim CEOs, CFOs, CTOs, and other executives as the pandemic has shifted the type and frequency of their portfolio companies' hiring. And while this form of hiring makes so much sense in our current hiring environment, finding a search partner who offers the flexibility of both interim and permanent executive hires—also known as a hybrid hiring model — offers the ultimate flexibility in a time of flux.
Madison Gunn is one of the few executive staffing firms that offers this hybrid option. In many cases, clients who need us to conduct a retained executive search also have an immediate need to have someone "in the seat"—and a hybrid solution is very effective in this type of situation.
Interim executives, particularly in a labor market and economy that's changing on a dime, are often the unsung heroes of the workplace. They can provide necessary skills, experience, and perspective right when it's needed the most. We break down how these executives bring unique benefits to a company and why, how, and when a private equity firm should consider adding an interim executive into its hiring mix.
2. Virtual hiring is here to stay.
The logistics of hiring for nearly every kind of role—including executives—has changed amid the pandemic. Madison Gunn's executive search experts recently shared their insights on how both candidates and clients have reacted to this new normal, and what the future of virtual hiring is likely to hold.
With the assurance that remote workers and virtual work isn't going anywhere anytime soon, ensuring that you're measuring the right KPIs and addressing emerging skills gaps, as well as knowing how to host successful virtual C-suite interviews, are vital to remain competitive and attract the best candidates. As Anthony Tomaro, partner and consulting services leader at Grassi Advisors & Accountants, said in an interview with Crain's New York Business, "Virtual meetings are the reality for the foreseeable future, and firms should continue to find new ways to effectively engage with clients, employees and new business prospects."
For C-suite candidates, it's also important to make a great first impression on a potential employer in a virtual interview situation. After all, without the usual in-person meetings, dinners, and events to get to know the company leadership, you must rely solely on your virtual interview skills to shine against the competition. Take on virtual interviews with confidence and present yourself in the best light by keeping these essentials — including some you may not have considered—in mind:
3. A flood of surprisingly available executives is here—but not for long.
A huge percentage of gainfully employed C-suite executives who aren't normally on the market are exploring a jump to new job opportunities. In addition, the market is flooded with talented executives who have been let go due to no fault of their own, but rather as a result of tough choices companies have had to make during the pandemic. Both of these groups are ripe for change and offer access to a plethora of skills and experience as you're looking to restructure your team, fill immediate or emerging skill gaps, or shore up your staff to prepare for a post-pandemic world. A word of caution, though: blink, and these candidates may already be snapped up. The time to act is now.
4. Private equity firms are riding the wave of change (and finding success doing it).
In a multitude of ways, this last year has taught us that change can be hard—even if the net outcome is positive. The private equity firms that have decided to ride the wave of change, however new and uncomfortable it may be, are benefiting. They're letting go of geographic barriers, focusing on hard and soft skills, and taking a second look at laid-off executives as they turn to fresh solutions in a very different hiring reality. PE firms are also realizing that specialized staffing partners may actually be short-changing you on the best executive talent, and that huge household-name firms can be transactional and inflexible—at a time when we so desperately need connectivity and flexibility. If you've been in a rut or simply want to view your hiring through a new lens this year, dig more deeply into these ways to shake up your hiring in 2021.
In today's fast-changing hiring environment, seeking out a search firm that cares about your unique challenges, understands emerging skill needs, and is laser-focused on the quality of C-suite talent above all else, is a trend with lasting power.
We believe the future belongs to innovators and problem-solvers. It's our job to create connections that inspire success. That's why we've spent 20+ years building strong relationships and bringing together top tech talent and forward-thinking companies. Signature Consultants joined forces with DISYS to offer a more diversified portfolio of services. Through our company's IT staffing, consulting, managed solutions and direct placement services, we deploy thousands of consultants each year to support client's tech needs across the U.S. Signature Consultants is also parent company to Hunter Hollis. Learn more at sigconsult.com.