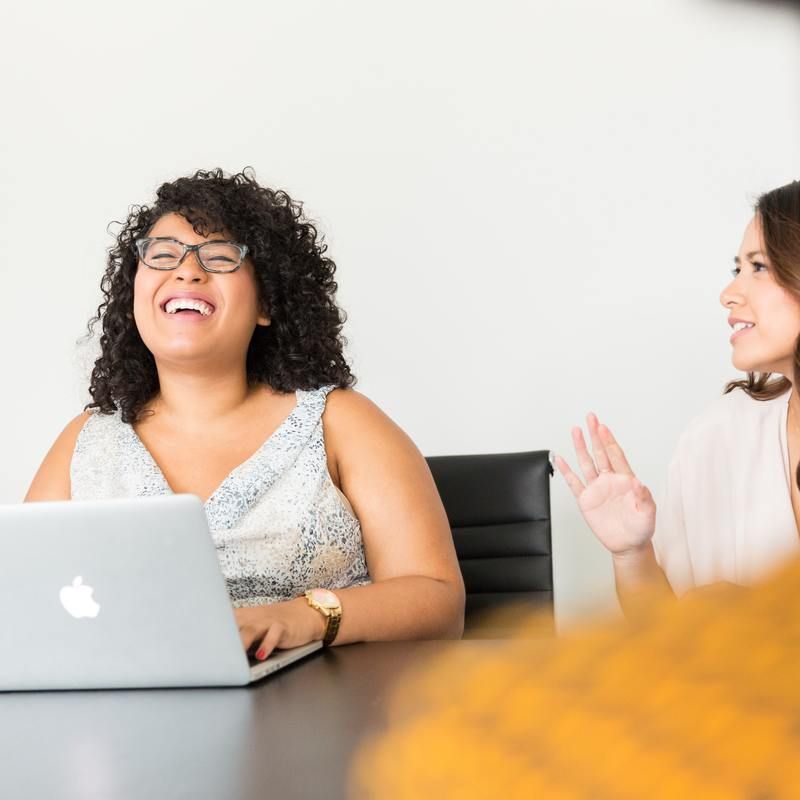 ​Our inner voice can be beneficial. It can caution us when we're in danger or help us think more critically about something. When it turns into a spiral of negative thoughts and emotions, however, our inner voice can become an inner critic — and our worst enemy. As women's leadership expert Tara Mohr discussed on Harvard Business Review's podcast, academic research has shown that women as a whole often feel more self-doubt around the things that are associated with masculinity stereotypically in our culture, such as quantitative tasks, negotiation, and leadership in a traditional hierarchical sense. When it comes to our workplaces and careers, these doubts can have devastating effects.
At first glance, it may be hard to believe that some of technology's top female leaders have struggled with their inner critics and continue to do so, but it's true. Signature's Women in Leadership group recently hosted a virtual event, "Mastering Your Inner Critic," in which panelists Veronique Rideau, Executive Director of Global Business Readiness at Shiseido; Tara Yeater, Manager of App Dev Products at Be the Match; and Dr. Ave Maria Arrington-Ferguson, Associate VP of Technology Services at Gardner Webb University shared their insights and personal experiences as leaders within the technology space. Angela Steele, Director of Technology PMO at Hyatt Hotels, facilitated the discussion. Below is some of their hard-won advice to other female professionals about how to master their inner critic.
What is Our Inner Critic Saying?
Our inner critic can show up in a variety of ways. Here are three common ways it manifests in our daily work lives.
The imposter phenomenon
Some of the situations the panelists detailed doubting themselves and their knowledge and expertise. One said, "I originally wanted to go into air traffic control, and I applied and got it! But I didn't go through with it because I was scared. After that happened, I realized I needed to talk to someone to help me overcome that fear and my critic." This tendency to hold ourselves back or feel we don't have what it takes (even when we do) plays out earlier in the job process, too: LinkedIn research found that women apply to 20 percent fewer jobs than men.
This nagging voice may also prompt us to overanalyze and replay interactions on repeat. One of the women said, "Sometimes I even read emails three times before sending, and I always have to have a plan. I have to pull that back and acknowledge when it's warranted or not." With the rise in remote work, self-criticism has taken on new forms, too. The women mentioned comparing themselves to others on Zoom and thinking worst-case-scenario thoughts like, "They are regretting promoting me," or "everyone is wondering why I'm even at this table."
The blame game
Our inner critic may tell us everyone knows more than we do, even when we are highly capable and knowledgeable. Or, it may inhibit us from "showing weakness" by admitting that we know less about something than we do. It may also cause us to blame ourselves for everything that goes wrong, whether it has anything to do with us or not. One panelist shared the self-talk that comes up for them when things go wrong: "I think it's my fault if Plan A didn't go according to plan. I think, 'What did I miss? What did I say or not say that could have helped?'"
The "do it all" fallacy: Many female professionals feel the pressure to "do it all" — and yet after living through a pandemic, It's more important than ever to embrace the support of those around us and lift one another up in times of stress or struggle. "I tell myself my employers don't expect me to do it all. That's why they gave me a team — to support me and my initiatives!" Everyone doesn't and shouldn't have the same strengths. Find skills and initiatives to match your team's varying strengths and working styles, and figure out how to work together in a mutually beneficial way. Take the constant pressure off yourself to do it all, and reshape expectations as needed. Remember that you're allowed to change your mind.​
Learning to Trust Ourselves
Learning to trust ourselves and our intuition is a crucial element of quieting our inner critic so we can hear what's really true. U.S. surfer Carissa Moore, the first woman to ever win an Olympic gold medal in surfing, has been open with her struggles with her inner critic. In an interview with "Surfer," she named her inner critic the biggest hurdle she has faced throughout her career — but says she has learned to talk to it. "Yeah, I don't think that little self-doubt voice ever goes away," Moore told USA Today. "It's just learning how to tell her to, 'Hey, just be quiet for a little bit. I got this.'"
As Brene Brown said on an episode of her "Unlocking Us" podcast, "We have to hear our voice over the noise, and sometimes the noise is fear: Our fear, our shame, our own 'not good enough, not smart enough, not safe enough.' We have to learn how to hear what we're saying."
If we don't, and we continue to allow our inner critic to go unchecked, our negative thoughts can create patterns of neural activity that change our brain structure. Conversely, the more we learn to replace our inner critic with rational thinking, the more we wire our brains to think that way. What is rational thinking? As Tara Mohr described it, the voice of rational thinking is forward-moving rather than repetitive. We know we are thinking rationally rather than stuck in our inner critic when a thought moves us to a place of curious deliberation, action, and solution-seeking. In rational thinking, we are kinder to ourselves and able to see the gray areas.​
When Our Inner Critic Can be Helpful
One panelist said, "I am used to taking care of people and nurturing them, so my critic is always speaking up to make sure I am taking care of my team and I am there for them." Sometimes, our inner critic can alert us to things we need to pay attention to, and the more we learn to hone it, the more the messages it gives us will be ones we need to hear. If this may be the case in a particular situation, do a smell test. Ask yourself forward-thinking questions such as, "If there is any truth in what the inner critic says, what can I do to improve or move forward?" Mohr suggests actively noticing our inner critic when it comes up (which may take a while at first, and asking questions like, "Why would my physical or emotional safety instinct not want me to do this thing?" Then, consider whether it's a rational instinct. We can allow our inner critic to be present without running the show.
Coaching Our Inner Critic to Work (Not Against) Us
Notice it and name it.
The first step is often to acknowledge it. One panelist said they have learned to partner with their critic rather than let it dictate the decisions they make. Often, partnering may mean listening to our critic but having the self-awareness to understand its purpose rather than blindly following it. Many psychologists recommend trying to distance ourselves from our inner voice by giving it a name and visualizing it as separate from us. One panelist said, "Name the mean girl who sits on your shoulder and criticizes you. Humanizing her acknowledges both that she's there, then it's easier to tell her to stop and focus on your task at hand." Or, try disarming it with a little thanks. Talk to your inner critic. If it says, "What if I get fired?" ask it, "What if I am not fired?" Make it a habit of opening your mind to the realm of new possibilities.
Quiet the inner critic.
Practice quieting your mind through running, meditating, yoga, or taking walks in nature. Or try to find ways to shift your attention to a task that requires your full attention, as one panelist said she does: "I ride my lawn mower and I focus on perfect straight lines, and block out everything else around me. And if it's not perfectly straight, I have to accept that the lawn has been mowed and I accomplished that task!"
Don't let perfection get in the way of progress.
"I teach my team that you can have a perfect execution plan, but that doesn't mean it will be perfect in two weeks, so don't let your critic stop you from executing the task at hand. Adjust the plan if needed. When you're engaged in negative self-talk and scared to do something, ask yourself, "What's the worst thing that could happen?" or "What would you do if you weren't afraid?" These questions put us out of our current mindset to test whether it is fear holding us back. Sometimes, "fake it till you make it" is a necessary policy to get past our fear and feelings of inadequacy until we learn to believe in ourselves.
Give yourself some credit.
As Brene Brown aptly said in her book Daring Greatly, "If you're not in the arena also getting your a** kicked, I'm not interested in your feedback." It's easy to criticize — and much harder to actually "be in the arena" solving problems, so give yourself the credit you deserve for putting yourself out there. As one panelist said, "If I get constant criticism, I flip it around, and say 'tell me how to do it better,' which sometimes shows it's their inner critic talking to you."
Find a mentor.
As a leader, it's essential to have someone to turn to when you're struggling with your inner critic and need support. Finding a mentor, whether inside or outside of the organization, is essential. The panelists also suggested talking to an industry expert outside your current organization to help form a new mindset and gain perspective. In addition to mentorship, find the tools and resources that help inspire and teach you. Panelists recommended "The 21 Irrefutable Laws of Leadership," and Louise Hay's power thought cards. Saying daily affirmations to yourself in the mirror can help, too. "It's awkward at first, but you have to give yourself permission to love and accept yourself."

If we start speaking to ourselves the way we would a good friend or close colleague, perhaps we'll realize our inner voice is no longer a harsh critic but a trusted confidant — and we'll encourage ourselves to fly.
We believe the future belongs to innovators and problem-solvers. It's our job to create connections that inspire success. That's why we've spent 20+ years building strong relationships and bringing together top tech talent and forward-thinking companies. Signature Consultants joined forces with DISYS to offer a more diversified portfolio of services. Through our company's IT staffing, consulting, managed solutions and direct placement services, we deploy thousands of consultants each year to support client's tech needs across the U.S. Signature Consultants is also parent company to Hunter Hollis. Learn more at sigconsult.com.